iPhone users have quite a few Internet radio apps from which to choose. Pocket Tunes Radio from NormSoft sets itself apart from by allowing you to listen to many stations not compatible with other apps. Most significantly, Pocket Tunes Radio offers satellite radio station compatibility through the XM and Sirius Web sites (provided, of course, you're a subscriber to those satellite radio services).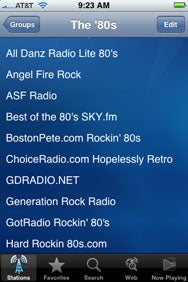 Like other Internet radio apps, Pocket Tunes Radio provides a directory of Internet radio stations sorted by category. There are hundreds of preprogrammed stations divided among a few dozen categories. Fortunately, the app's search feature can help you navigate through all of the options; you can even mark favorite stations for quick access. If you hear something you like, you can search the iTunes catalog from within Pocket Tunes Radio, transferring over to the iTunes Store to buy the song.
Don't expect CD quality audio from Pocket Tunes Radio—most of these stations are heavily compressed, though I found them to be fine for casual listening. And the low bit rates come with an advantage: you'll be able to listen to stations on connections on not only Wi-Fi but also 3G and even EDGE.
Pocket Tunes Radio distinguishes itself with a built-in browser that lets you access many Web-based radio stations, including those which require a username and password like Sirius and XM satellite radio stations. Until Sirius XM releases an iPhone app, this is your only way to take advantage of the Internet streaming component of a satellite radio subscription.
I tested this feature using Sirius, and it works quite well. You'll have to initially navigate the Web site to enter your username/password, but once you mark the station as a favorite, returning to it is a breeze. The built-in browser also allows you to surf the Internet while you continue to play your music since, like all Internet radio apps, background operation isn't possible.
With plenty of free Internet radio apps available, how do you justify Pocket Tunes Radio's $10 price tag? It comes down to whether or not you want access to radio stations the others can't receive. For me, it was an easy decision because for now, Pocket Tunes Radio is the only way to stream satellite radio to your iPhone or iPod touch.
Pocket Tunes Radio is compatible with any iPhone or iPod touch running the iPhone 2.2 software update.
[James Savage is the host of the RetroMacCast a weekly podcast devoted to older Macintosh computers.]