If you use Pages, you're probably familiar with its ability to save a customized document as a template. Just set up the file as you'd like it to look for your needs, then select File -> Save as Template. Pages will save the file in your user's Library -> Application Support -> iWork -> Pages -> Templates -> My Templates folder. Once saved, you'll be able to access your templates in the My Templates section of Pages' template chooser (File -> New from Template Chooser). Using customized templates, you can save a bunch of time when you need to create similar documents on a repetitive basis.
If you use this feature a lot, though, a problem soon becomes apparent: there's no apparent way to group the templates for easier identification. You can use naming schemes—all personal files start with Pe_, for instance, but that still leaves you scrolling through the template chooser to find the one you want to use.
Thanks to Mac OS X Hints reader mkoistinen, however, there's now a much better solution to the problem. This trick works in both Pages '09 and Pages '08; I'm not sure about any earlier versions. Assuming you already have a good collection of customized templates, here's what to do.
In the Finder, navigate to your user's Library -> Application Support -> iWork -> Pages -> Templates folder. In that folder, you'll see a folder named My Templates. That's where all your existing customized templates live. Don't open that folder yet, though. Instead, create new folders at the same level as the My Templates folder—that is, within the Templates folder. Folders created within the My Templates folder will not work; they must be at the same level as the My Templates folder. Similarly, you can't use subfolders within your newly-created folders to further sort your templates.
You can use filenames here to control how these folders will appear in Pages; Pages sorts the folders alphabetically. For instance, I created two folders named _Home and _Work, so that they'd appear next to each other, and below the My Templates folder. Create as many folders as you need, using whatever naming scheme makes sense to you.
After creating all your folders, open the My Templates folder, and drag and drop your templates into the folders you just created, sorting them based on whatever filing arrangement you came up with. When done, do not delete the My Templates folder—if you do, Pages will just create it anew the next time you launch it.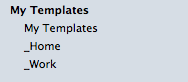 Quit Pages if it was running, then launch it again. Open the Template Chooser, and you should see your newly-created folder structure in the list of folders on the left side of the window. You can click on any of these folders to see the templates they contain, and then open a template with a double-click. (Note that Pages will not show an empty folder here; if there aren't any templates in the folder, it won't appear on the list.)
When you create new templates, you can change the save location to point to your other folders, and the template file will then be immediately available within that folder after saving. This simple trick makes it much easier to keep track of multiple custom Pages templates. I tried the same thing in Numbers, but it doesn't seem to work there.