For almost any system administrator, the idea of "off-time" is fictional. Even when I'm on vacation, there's an unwritten expectation that if need be, I'm going to be summoned to solve a problem. (Even on my honeymoon, for example, I found myself spending a half-hour or so dealing with a work issue.)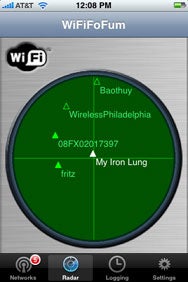 As a result, having just a plain cell phone isn't an option for a sysadmin like me—smartphones become mandatory. Since its release, I've been on an iPhone, and since the introduction of the App Store, my iPhone has gone from merely handy to a really useful tool. So, in no particular order, here are the things I use to make my sysadmin life easier:
EDGE: When you host Web sites and other Internet-based services, the ability to check them from an outside network is critical. So, when we need to test "from the outside", I just turn off Wi-Fi, sit at my desk and do external testing.The same rule applies for 3G iPhones, obviously. (I haven't upgraded yet because I'm cheap.)
Safari: Fortunately, I never need Flash for my work, but I cannot function without a Web browser. With the iPhone, I never have to.
Mail: Like having a decent Web browser, I can't live without e-mail. In addition to just being able to get email, the Exchange Active Sync (EAS) support in the iPhone lets me test different servers' implementations of this with ease. This was important to us when we changed e-mail servers recently. Being able to fully test iPhone support was a major benefit, and helped us not have to rely on vendor promises.
LDAPeople: I've written about this application before, but LDAPeople from Boneware bears mentioning here as well. Since our network is based around Lightweight Directory Access Protocol (LDAP), being able to get information from our LDAP setup is invaluable and very convenient when we see indications that our LDAP servers may be getting wonky. Since LDAPeople is just an LDAP client, nothing more, it's a more direct way to test our LDAP servers without having to fire up Mac OS X's Address Book, or Entourage, or some other application that uses LDAP.
WinAdmin: The world isn't single-platform, and neither is my network. I have a number of Windows Servers that I have to take care of, and because Windows command-line access is sub-optimal, the best way to remotely administer a Windows box is via Windows Terminal Services. I use WinAdmin from Carter Harrison to manage such systems. WinAdmin is a simple client for Windows Terminal Services, and makes it easy to remotely log in to and administer my Windows Servers. We also have AquaConnect Terminal Server running—Mac terminal server software. With WinAdmin installed, I can connect remotely main network monitoring server—an Intel-based Xserve running Mac OS X Server 10.5.6.
TouchTerm Pro SSH: Graphical User Interfaces (GUIs) are pretty and nice, but for low bandwidth secure remote access, nothing beats a good Secure Shell (SSH) client. That's what TouchTermPro SSH from Aji fits the bill. For Unix administrators especially, SSH is the tool of choice for many tasks, and out of all the SSH clients I've played with on the iPhone, TouchTerm Pro SSH impressed me the most and is the most useful to me.
What's Goin Down: While some people may like to see their computer running, to me, the best server is one in a room that I never go into and never have to physically see. However, I still need to know if the server is running okay, and for that, I've found Random Ideas' application, What's Goin Down, to be darned useful. It lets me check different services on servers, even multiple services on the same server. So if I have a Web server that's hosting multiple sites, I can check each site individually. I can separately check IMAP, SMTP or POP e-mail services. What's Goin Down allows me to verify server operational status quickly and efficiently from almost anywhere.
WiFiFoFum: Most people never have to pay too much attention to Wi-Fi other than to know it's working. But there's a bit more to it for IT admins. Understanding signal to noise ratio, the presence of unknown base stations, and the operational status of base stations that are part of our network are examples of factors IT needs to know. With WiFiFoFum (reviewed here), I can get a lot of information about my wireless network in seconds, which is a huge help in figuring out which base station has suddenly dropped off the map. The radar view is not only neat, but kind of handy. From Aspecto Software. [Editor's note: In another life John worked on B-1B bombers, so of course he finds the radar view neat.]
These seven apps (and one service) are great examples of how useful the iPhone can be to the IT manager. I use all of them regularly to make my professional life run a lot smoother. What are your choices? Chime in with your own comments.
[John C. Welch is a frequent Macworld contributor. By day, he runs the network for The Zimmerman Agency of Tallahasee, Florida. His other (mostly profane) musings can be found at Bynkii.com.]