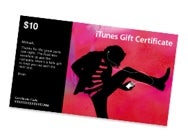 Credit card fraud and identity theft on the Internet are nothing new—these days, they're just a fact of life. But in case you're not already keeping close tabs on your monthly credit card statement, here's yet another reason to be vigilant: iTunes-related fraud.
New York City's Fox affiliate station on Monday reported on one particular widespread method of iTunes fraud, which involves consumers getting receipts for iTunes gift cards that they didn't buy.
iTunes as a vector for fraud isn't really new. According to a thread on independent customer-service Web site Get Satisfaction, incidents stretch back over the past year, with a number of people having found bogus charges to their credit cards purporting to be from the iTunes Store. Others, however, report having been contacted by their credit card companies because of $1 iTunes charges—some fraudsters use the small charge to test the waters, then start making larger purchases if they aren't caught.
By caught, however, we simply mean whether or not your credit card company notifies you and you cancel the card. Nobody seems to know exactly who's behind the scheme, though it's becoming more and more common to find illicit sites reselling iTunes gift certificates for less than their face value, paid for with stolen credit card numbers. It's instant profit for identity thieves.
In the meantime, the best approach is to make sure that your iTunes account and credit card information is as safe as you can reasonably make it and to check your statements regularly.
[via Consumerist]