You've always loved puzzle games. And role-playing games, when done right, have taken up a considerable amount of your life. Combine the two and you have something formidable, fun, and involving in the form of TransGaming's PuzzleQuest Chapter 1 & 2 for the iPhone and iPod touch.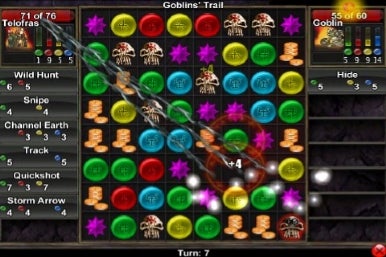 Like a classic role-playing game, you can design a heroic character, embark on quests, expand your party to include other characters and earn improved equipment while venturing to defeat the evil warlords wreaking havoc throughout the land. You must battle each enemy by solving puzzles to match groups of three similarly colored game pieces, attacking your opponent by aligning groups of skulls or aligning the colored game pieces to generate magic power — mana — which activates offensive and defensive spells to use throughout the battle.
PuzzleQuest, which has been available for a wide variety of operating systems, consoles and handhelds, stands as a marquee title (with the price to prove it). The transition to an iPhone version doesn't skimp on the quality. Good RPG-style graphics meet well-crafted sound and music and the title flexes its muscles when it has to, such as during high-level spells and transition events.
It's the role-playing elements that hold your interest in PuzzleQuest. Though every battle is fought by playing a "match three"-style puzzle, the adventure part of the game equips you with special items you can use against your enemies — items that boost the power of your spells, for example, or a special weapon that can provide additional damage when needed. Along with attacks provided by party members, these combine to add variety to each battle and make the game that much more interesting.
Even if the combination of a puzzle title and a role-playing game doesn't sound immediately interesting, it grows on you. The overarching strategy within the encounters tends to be to find the color of mana that your opponent needs the most for their spells and to keep it from them while trying to gather the color mana you need for your spells. Factor in trying to control the board and working to chip away at your opponent's health points and battles become that much more interesting.
PuzzleQuest plays nice with iPhone OS 2.2.1 and includes some nice bells and whistles, such as a reliable autosave that lets you pick up where you left off. It activates when the iPhone's battery hits 20 percent or lower.
But taps don't feel precise — you can hit the wrong places at times, and a careful touch is necessary. A bug causes the sound to return even when it' been muted. Text is sometimes too small to read comfortably, and doesn't contrast well with its background color.
Even with these shortcomings, PuzzleQuest remains fun, worth its $8 App Store asking price and is a good way to slay about half an hour at a go.
PuzzleQuest requires iPhone OS 2.2 or later to install and run.
[Chris Barylick is a frequent contributor to Macworld, though not the mightiest adventurer available on the market.]