Smartphone browsers are good enough to deliver Yahoo Mobile, so the search provider has killed off an on-device software version of the product that it was beta testing.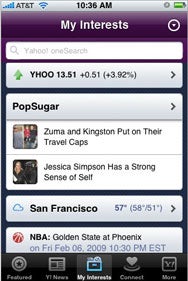 Yahoo Mobile was introduced earlier this year and came in three versions: an application for the iPhone, a browser version and an application that ran across hundreds of smartphones, said Adam Taggart, head of product marketing for Yahoo's mobile group.
After running a beta test of the smartphone application, Yahoo has decided to discontinue the product.
"Instead of launching an all-in-one app for general smart phones, what we'll do is continue focusing on the browser version and the iPhone app," he said. "We found that most smartphones have great browsers these days, and so we're finding that the experience we're able to provide in the browser is similar to the experience in an app."
Yahoo Mobile is a single page that connects users to services from Yahoo and others, such as e-mail, IM, Facebook and search.
Rather than continue to develop and support the smartphone application, Yahoo will focus on building vertical applications for specific platforms, including BlackBerry and "most likely" Android, he said. "When you have finite resources, you want to say, 'Where can I give the biggest bang for the buck?'" he said.
As an example, a smartphone user might connect to Yahoo Mobile through the browser, but download a specific application for following fantasy sports that offers more than a browser application would, he said.
Reports this week suggested that Yahoo was discontinuing its individual mobile applications for the BlackBerry, which include Yahoo Mail, IM, search and Flickr. In fact, Yahoo plans to continue to support its BlackBerry applications, Taggart said.