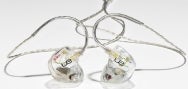 High-end headphone vendor Ultimate Ears has announced the UE 4 Pro Custom Monitors, a new entry in the company's custom in-ear monitors line. At $399, the UE 4 Pro is Ultimate Ears's least expensive custom-made solution for musicians and music enthusiasts.
Like the other models in Ultimate Ears's custom line, the UE 4 Pro requires a visit to an audiologist to have impressions taken of your ear canals. (The cost of the impressions is not included in the price of the UE 4 Pro.) Ultimate Ears then uses those impressions to manufacture form-fitting earpieces specifically for your ears. The company says the custom-fit UE 4 Pro monitors reduce ambient noise by 26 to 28 decibels. An optional ($50) "ambient" feature is also available; this feature allows you to choose the amount of ambient sound allowed in.
Each UE 4 Pro earpiece uses a dual-armature, dual-bore design with a passive crossover. The company claims the new models are durable enough to "withstand the wear and tear from performing on stage and moving your gear from gig to gig." The UE 4 Pro is available now and includes a personalized carrying case.