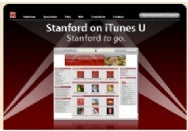 You've been able to download classes from many universities via iTunes U for years. Heck, my alma mater, UC Berkeley, offered up a bunch of courses in 2006.
But, the fastest course from any university to hit the 1 million download mark, according to a recent piece in the San Francisco Chronicle, is Stanford University's iPhone Application Programming CS193P class—and the class just started in April.
As its name implies, the course teaches students and anyone watching at home how to program for the iPhone. The class sometimes has guest-lecturers, including Josh Shaffer from Apple, who graced the class with his presence this past week.
So, can mere mortals follow this class?
Well, yes and no.
The class site says: "We list CS106B or CS106X as the prerequisite. While we don't strictly enforce this requirement we do strongly recommend that students are comfortable with programming in C, especially with regard to using pointers and general C memory management (malloc/free). Familiarity with object oriented designs and principles are definitely helpful but tend to pose less of a stumbling block than wrangling with pointers in C."
I'm hardly familiar with C, but perhaps some of you are. Has anyone created anything useful as a result of taking this class?