These days, most of my gaming is done on a console (an Xbox 360, if you must known—yes, from Microsoft, gasp!). But I still keep an eye out for Mac games on occasion, so I'm psyched to see that Jonathan Blow's excellent platformer Braid is finally debuting on the Mac, after being available for the PC and on Xbox Live Arcade.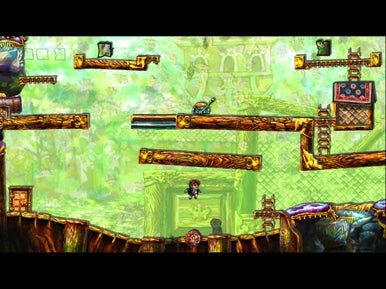 Braid's protagonist, Tim, is a young man searching for a princess, whom he has wronged in some way. In his quest, Tim has to collect a variety of puzzle pieces in order to progress throughout the game and unlock subsequent stages.
At first glance, Braid might seem like your typical side-scroller, but it also incorporates a set of unique mechanics dealing with time. Not only can you reverse time to stop yourself from dying (after you fall in a pit, for example), but in many cases, the manipulation of time is required for solving the puzzles. Further levels add additional gameplay tweaks, such as time slowing down, or even playing in a sort of parallel "shadow" universe.
Add to that some gorgeous graphics that border on impressionist paintings and a terrific soundtrack, and it's easy to see how Braid has walked away with a number of awards in 2008, including Xbox Magazine's Xbox Live Arcade Game of the Year.
Braid's available online at Greenhouse, where you can download the demo or buy the full game for $15. The game requires either the latest version of either Mac OS X 10.4 or 10.5; a 1.0GHz or better G4, G5, or Intel-based Mac; 512MB of RAM; and at least an Nvidia GeForce FX 5900, ATI Radeon 9500, or Intel GMA 950 graphics chip.