At a Glance
Expert's Rating
Pros
Can be configured and uninstalled via the Web
Captures everything that happens on your computer
Sends detailed activity reports to the administrator
Cons
Captures everything that happens on your computer
Can be used for corrupt purposes
Extremely invasive in capturing personal information
Our Verdict
Let me lay this right out on the table: eBlaster makes me feel very uncomfortable. Don't get me wrong; I understand the reasons this kind of software is necessary–from creepy Internet stalkers talking to your children in chat rooms, to cheating spouses communicating with their lovers online, to office workers giving away company secrets or spending their working hours (and company dollars) shopping or surfing porn sites. But the fact that key-logging software like eBlaster, which can secretly record all the keystrokes on one computer and surreptitiously send those keystrokes via e-mail to another, is sometimes necessary doesn't make it seem any less creepy.
Those caveats aside, eBlaster works, and works quite well. Once the program is installed and your Mac restarts, eBlaster loads in the background and begins going to work. You won't find eBlaster in your Applications folder where typical programs live, and you won't find it by using Spotlight or any other conventional method. The only way to open the program is by typing a sequence of user-configurable hot keys (the default is command-control-shift-T). Once the program is open, you can configure a multitude of options.
eBlaster can monitor a wide range of computer activity, including instant messages sent, Web sites visited, e-mails sent, keystrokes typed, online searches made, and applications used. Using the program's configuration tools, you can also change where reports are delivered, change the content of those reports, choose where data activity log files are stored on the Mac being watched, and decide how long those logs are kept. By default, eBlaster sends you a report every 60 minutes unless no activity is detected on the computer, but you can change your preferences to deliver reports anywhere from once a minute to once a day.
The reports contain a brief summary of the recorded activity at the top of the e-mail. These summaries link to more detailed information at the bottom of the page. If the user you're watching has been using iChat or another IM application, the report includes a complete transcript of the conversation. However, if you use a Web-based chat application like the one found in Facebook, eBlaster doesn't recognize it as an IM program, so that activity won't appear in the IM report. But that doesn't mean that it wasn't being recorded or reported. Any time you use the keyboard, whether you're using a standard application like Pages for creating a document, typing a message into a Web-based chat client, or typing your user ID and password into your banking site, eBlaster includes this information in the Keystrokes Typed portion of the report.
The downside to the keystroke reports is that, while they are an accurate linear representation of what's been typed on the computer, depending on the accuracy of the person using the keyboard, some of the text may be less than readable, and the sentences may be out of sequence. For example, while writing this review I'd often have a thought about something I'd written earlier and in a different paragraph that I'd return to, to edit. While those edits make perfect sense within the context of this document, because eBlaster looks at keystrokes in sequence, some of the text in the report of my behavior would appear to be gibberish.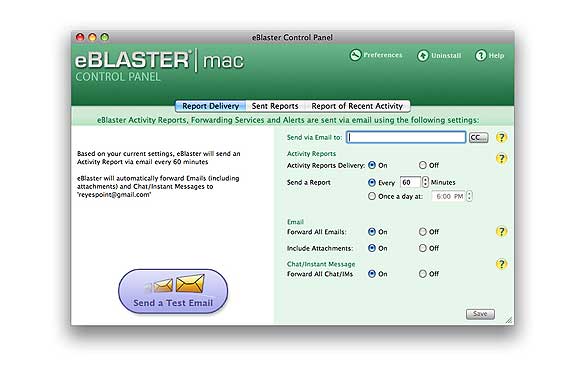 While hourly reports contain a summary of all computer activity, eBlaster's default settings for instant messaging and e-mail messages are slightly different. Chat and e-mail transcripts are sent instantly and include not only what the user has typed, but also what has been sent to the user from the person on the other end, giving you a complete transcript of the entire conversation.
I mentioned earlier that eBlaster was capable of capturing user IDs and passwords typed into banking or other secure sites, and I think it's important to point out here that this information was very easy to retrieve and reuse. Using reports sent by eBlaster, I was able to identify what Web site was visited and what password and user ID were used, and log into that site myself. In short, it's quite possible, and quite easy, to use eBlaster for nefarious purposes. So, if you decide to use eBlaster, keep in mind that the reports could potentially expose very sensitive information.
Macworld's buying advice
eBlaster 2009 is a powerful and efficient stealth tool for capturing and reporting every detail of a user's activity on a home or office Mac without that user ever knowing. Every chat, e-mail message, Web site visited, and keystroke typed is recorded and secretly sent to the administrator via e-mail. But it's hard not to feel that capturing this information might come at a considerable price. Before resorting to eBlaster, you may want to try a more straightforward method of getting this information.
[ Jeffery Battersby is a writer and (very) small-time actor living in upstate New York.]