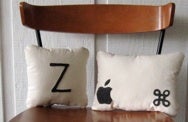 The fact that I woke up very early today explain why I find these pillows to be so amusing. Titled ' mac lovers pillow,' and available from Etsy (your online source for all things crafty and handmade) this pair of pillows is the perfect gift for any Mac lover who also happens to enjoy a fine pillow or two.
The pair consists of a command pillow (which is rocking the Apple logo, so you know it's retro) and a pillow adorned with the letter key of your choice (the seller features the 'Z' key no doubt because looking at these pillows makes you sleepy, and you won't want to undo buying them. See what I did there? Hey, I told you I woke up early today).
Now, I'm no expert on the price of pillows these days but $65 for the pair seems a little pricey to me (though they are handmade). Does the mythical Apple tax apply to pillows as well?
[via Gearlog]