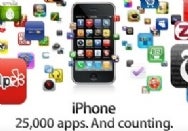 The App Store is becoming almost as famous for rejecting applications as it is for selling one billion of them. The iPhone app body count has recently grown by two, including a high-profile e-book reader and a compatibility update for a camera application— at Apple's request—in preparation for iPhone OS 3.0.
The loudest thud was made by Apple's rejection of Eucalyptus, a polished e-book reader that can search the 20,000-plus classic library of Project Gutenberg. It is important to note that, unlike competing iPhone ebook readers such as Classics, Eucalyptus is simply a client—it does not provide or store any actual content. It allows users to search a directory, much like Safari allows users to search the Internet with Google and Yahoo.
Eucalyptus's developer, Jamie Montgomerie, details Apple's rejection on his blog. In summary, the App Store reviewer used Eucalyptus to search for The Kama Sutra of Vatsyayana, which was apparently enough to disqualify the application because it "contains inappropriate sexual content." Let's hope the App Store review team never uses Safari on an iPhone to search for "Kama Sutra," otherwise we might all lose one of the iPhone's most essential features.
The second App Store rejection we noticed this week is that of QuadCamera, a clever application that allows iPhone owners to rapidly snap multiple photos in succession, apply unique effects to them, and even create a montage. QuadCamera has been out for some time, as version 1.9 is the most recent in the App Store.
Earlier this month, Apple began requiring that all new apps and updates work with iPhone OS 3.0, so QuadCamera's developer, Takayuki Fukatsu, submitted a new version to comply. Unfortunately, Fukatsu notes on his blog that QuadCamera 1.95 has been getting rejected for more than three weeks. Fukatsu has not responded to Macworld's request for comment, but considering Apple's previous and preposterous reasons for rejecting applications, we can only assume App Store reviewers discovered that QuadCamera can be used to take inappropriate images of women, or perhaps signs that have curse words on them. Oh, the horror.
We have covered plenty of App Store rejections in the past, and sad to say, this latest news of Eucalyptus and QuadCamera is really just par for the course at this point. Call it mis-management. Call it misguided or untrained App Store reviewers. Whatever the problem is, Apple needs to fix it and stop sabotaging the App Store experience while steamrolling the developers it depends on to make the platform a success.