At a glance
Expert's Rating
Pros
Wide range of functions
Familiar operation
Cheaper than Photoshop
Cons
Not quite as comprehensive as Photoshop
No AI-supported functions
Our Verdict
For beginners, hobby graphic artists and photographers Affinity Photo is an incredibly attractive alternative to Adobe Photoshop, which hardly differs from the class leader in terms of essential functions.

Affinity Photo is now so similar to Adobe's software that a move to the former should be smooth, although beginners will need to spend some time getting to know the interface before they can fully exploit all the possibilities of Affinity Photo.

With all that Affinity Photo offers, the software is a real bargain at $69.99/£67.99.
Price When Reviewed
$69.99
Best Prices Today: Affinity Photo
Adobe Photoshop is for image editing like Microsoft Office for the office: absolutely dominant and in a professional environment you can't get around it. However, if you aren't using Photoshop and the Creative Suite, or Creative Cloud as it is now called, for professional reasons (and even if you are) the package has become very unattractive since the introduction of the subscription model more than a decade ago.
If you only want to edit a few photos every now and then you probably won't think that a monthly subscription for around $9.99/£9.98 is worth it – because most of the time it is not.
A cheap and affordable alternative to Photoshop is Affinity Photo, which was released in its second major version in late 2022. Here you get an unlimited license for an extensive image editing toolbox for $69.99/£67.99 (the iPad version costs only $18.49/£17.99 up front).
If you also need software for vector graphics and print media, you can also get the complete Affinity V2 Universal License as a one-off payment of $164.99/£159.99. This consists of Affinity Photo 2, Affinity Designer 2 (an alternative to Adobe Illustrator) and Affinity Publisher 2 (an alternative to Adobe InDesign). This way you can even save a little – the complete package costs only 200 euros, including the versions for the iPad.
We've been testing Affinity Photo 2 for a while now and are generally very satisfied, especially considering what the software does for a relatively low price.
We also review a number of Photoshop alternatives here: Best photo editing software for Mac as well as some free options here: Best free photo editing app for Mac.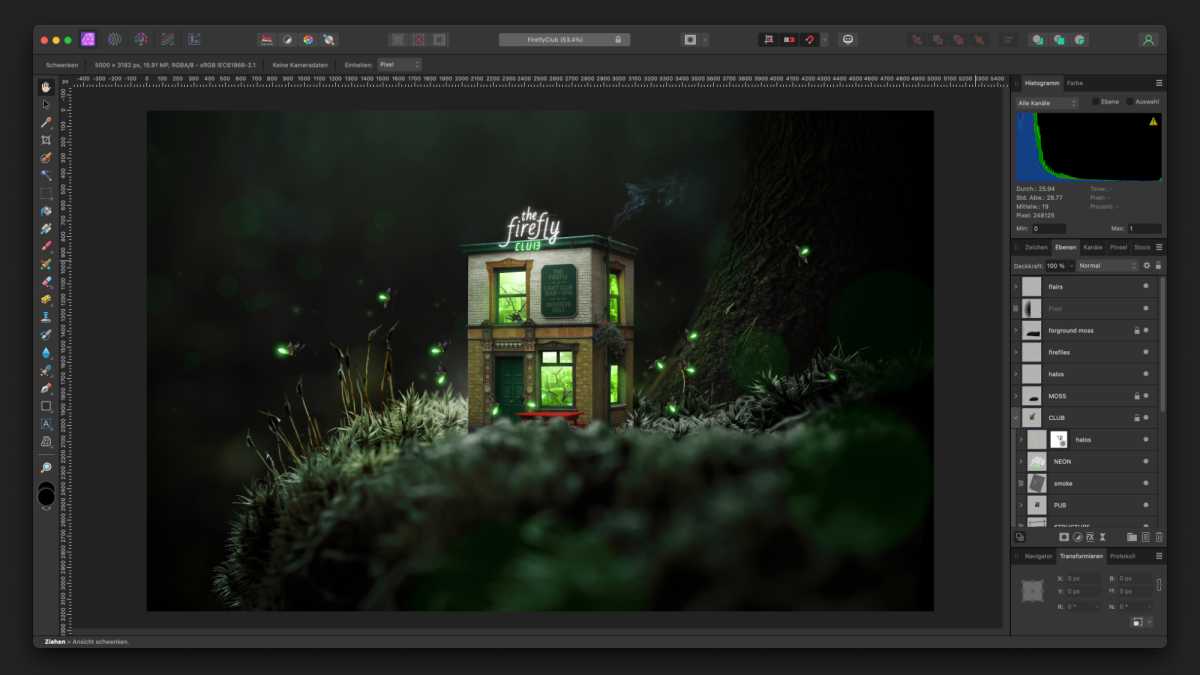 Foundry
Familiar interface
If you are already familiar with Photoshop, you will quickly find your way around Affinity's interface: The (default) layout overall is virtually identical, and the icons in the toolbar on the left differ but are similar or easy to follow with a few exceptions. Most of the basic keyboard shortcuts are also the same, which makes getting used to them much easier.
Affinity Photo does some things better than Photoshop, although this is of course a matter of taste. Personally, for example, I like the fact that the options for supported alignment (pixel alignment, magnetic alignment) are located in the top toolbar and not hidden in menus.
However, if you are familiar with image editing, Affinity Photo can be as confusing as stepping into an airplane cockpit and seeing tons of buttons and not knowing what they do. Luckily, to make it easier to get started and get around, Serif, the company behind Affinity Photo, has uploaded several dozen video tutorials to Affinity Photo's YouTube channel.

Foundry
In addition to the standard interface, there are several other pre-configured interfaces for special purposes – Serif calls them "Personas": The standard interface is called "Photo Persona", but there is also the "Liquify Persona", which is specially designed for deforming, distorting and retouching images, the "Develop Persona" for developing raw images, and a handful of others. You can easily switch between the individual personas in the upper bar.
Just as in Photoshop, you can drag individual elements, windows and tools from the main window to another monitor. This allows you to effectively enlarge the workspace by swapping out tools and other settings.
It's different on the iPad, where the interface is significantly simplified and optimised for the smaller screen and pen input with the Apple Pencil and fingers. Here, too, it is clearly reminiscent of the touch-optimised version of Photoshop.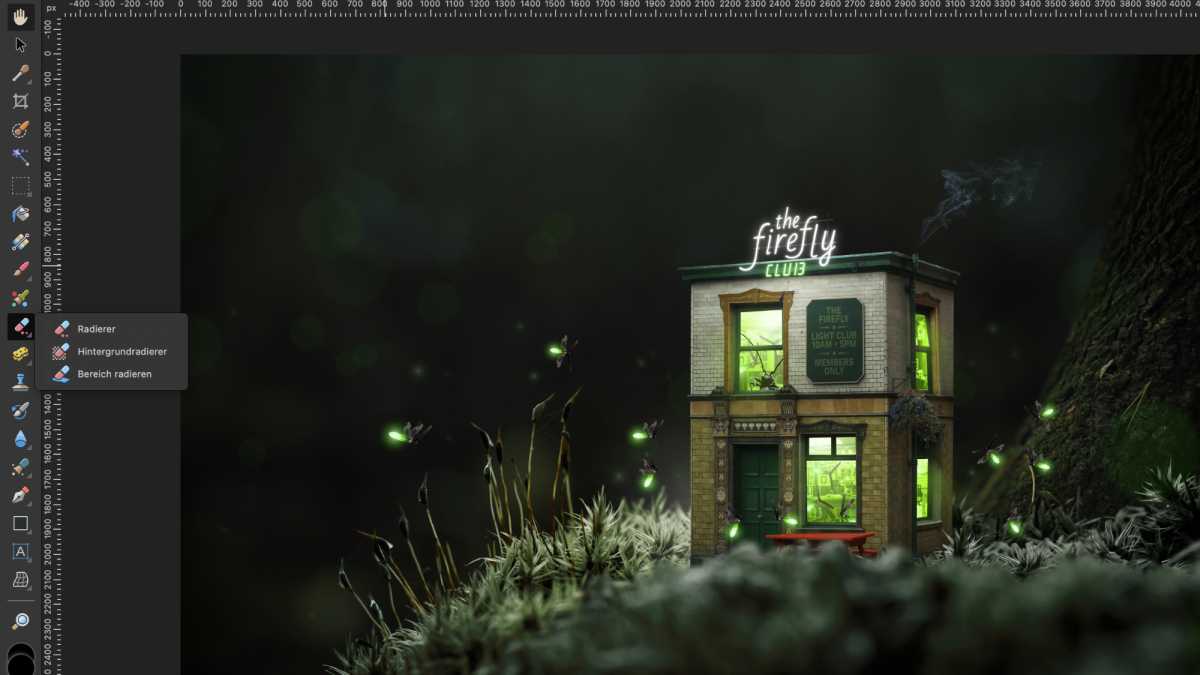 Foundry
Remarkable range of functions
The number of tools that Affinity Photo offers is also quite impressive. If you are interested in image editing and composing, the software offers almost the same functions as Photoshop: various layer types, (live) filters, adjustments (tonal value correction, contrast, etc.), effects (shadows, glows, etc.), masks, color gradients, brushes and much more – Affinity Photo will not fail to provide the basic functions. Affinity Photo even has a counterpart to the content-based filling of Photoshop, but here it is called "Inpainting".
Differences to Photoshop only become apparent with AI-related functions. For example, some time ago Adobe added an AI-supported function that can completely replace the sky in landscape photos, which Affinity Photo does not have. Similarly, Photoshop can now recognise objects in images and select them quite accurately – also with the help of AI.
Affinity Photo can't do that either, here you still have to select everything manually, even though the magic wand and the selection brush do a solid job even without AI.
One function that surprised me due to how intuitively it works in Affinity Photo is crop masks. To create a blurred background in the cover image for my article "The best games for the iPhone", I drew three shapes, dragged the respective images into Affinity Photo and dropped them onto the respective shape in the layer list – done.
In Photoshop, this is only slightly more complicated, but still less intuitive: there, you drag the respective image in the list over the respective shape and then, while holding down the Option key, click on the line between the two layers to create a cut mask from the one above for the one below.
Surely this is a matter of habit, but for me personally, the drag-and-drop principle using only the mouse wins here against the combination of mouse and keyboard input.
Foundry
The sample files that Serif makes available for download are very helpful. You can find them in a tab in the "Open" dialogue and can then look over the shoulder of professionals and see what they have used which tools for and in what way. In addition, there are also many YouTube tutorials for Affinity Photo, partly from Serif itself, and partly from a large community.
Creative Cloud – the biggest difference
Like many large software companies, Adobe has switched to a software-as-a-service model, which means that the focus is no longer on the software alone, but on a large package of software and various additional services. A big advantage of Adobe's Creative Cloud, of which Photoshop is now a part, is precisely these additional services: You get access to Adobe Stock, a database of stock photos by professional photographers, over 20,000 different fonts and many other services that you would otherwise have to take obtain yourself.
Most of this is missing from Affinity Photo, where there is only the software with which you can edit images. You have to take care of fonts, cloud storage and collaboration tools yourself, but this can save you a lot of money, especially as a hobbyist, and use free platforms like Unsplash.
Stock photos are at least connected via Pixabay, an external platform for free or license-free photos and vector graphics. Affinity Photo does not explicitly refer to this–I only found the tab after a reader had pointed it out to me. It is commendable that Pixabay is completely integrated into the interface and does not refer to external browsers. The selection of graphics is perfectly fine, but cannot quite keep up with commercial platforms.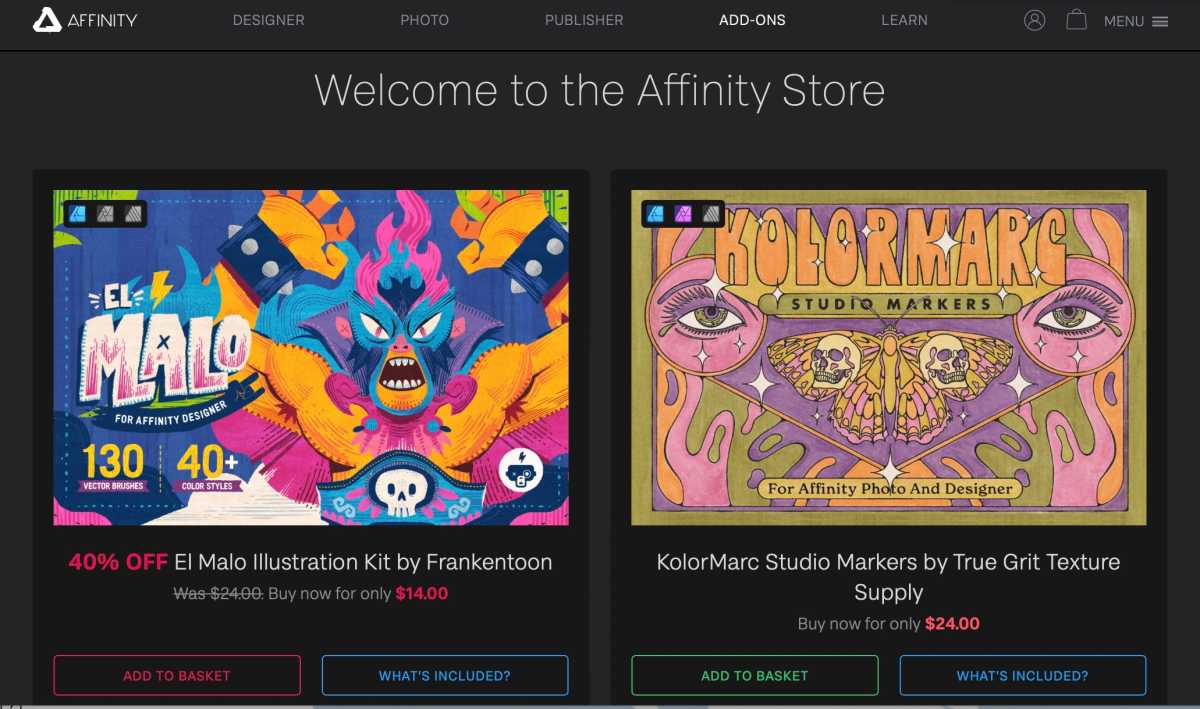 Foundry
Online store for additional content
If you need additional or pre-configured tools, some add-ons can be downloaded for a fee from the Affinity Photo online store – textures, overlays, brush presets and a few more. In terms of price, the offer seems quite fair: for $25/£25, you get 53 textures, brushes and templates with the "Vibrant Paint Strokes Bundle", for example.
The "Handwritten Font Bundle" with six different handwritings and several styles each is currently the most expensive add-on at $44/£44, and the "Nature Brush Pack" with 68 "bio brushes" for $9.99/£9.99 is the cheapest. All in all, the selection is manageable, but the shop will probably be more of a nice add-on for Serif than a source of income to be taken seriously.
Verdict
If you are a beginner, hobby graphic artist, or photographer, Affinity Photo is an incredibly attractive alternative to Adobe Photoshop, which hardly differs from the class leader in its essential functions. You lose out on the really smart features here and there, but there is nothing wrong with learning how to retouch and select objects properly by hand.
In terms of appearance and handling, Affinity Photo is now so similar to Adobe's software that if you know Photoshop it will take no time to get familiar with Affinity Photo. The main selling point, of course, is that Affinity Photo, for all that it offers, is available for $69.99/£67.99 with an unlimited license, unlike Adobe Photoshop, and does not require a monthly subscription. Buy once, use always – that's how we like software. For the indecisive, there's a free 30-day trial for each platform – Mac, Windows, iPad.
Translated from Macwelt by Karen Haslam.
Best Prices Today: Affinity Photo