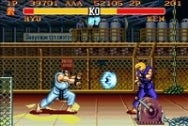 Remember those days you spent at the arcades, after school, dropping coins inside Street Fighter machines, trying to defeat Bison? If we're lucky, we might get to do it again (minus the quarters, thankfully).
After releasing Resident Evil: Degeneration for the iPhone, Capcom Chief Financial Officer Kazuhiko Abe has announced the company will release 10 more iPhone titles between now and March 2010, according to a report by Reuters.
Capcom is the latest major game developer to commit their resources to the relatively new iPhone platform following Electronic Arts, Konami, and Gameloft. Known for classic franchises such as the long-surviving Street Fighter and Mega Man series, Capcom has an extensive host of video game titles dating back to the 1980's and many would love to see them ported or adapted to the iPhone.
The company is moving to improve its market position outside of its home country as the video game market is diminishing in Japan. Despite the reduction, Capcom recently posted an 11 percent jump in operating profit thanks to titles such as Resident Evil 5 and Street Fighter 4. In light of this, it will continue to offer titles that appeal more towards American and European markets.
For now though, they have yet to reveal which titles or even which kinds of games will make it to the iPhone. Recently they've released Mega Man II to the App Store, as well as Who Wants to be A Millionaire? and Are You Smarter than a 5th Grader?
Given these releases and Capcom's tendency to stick to franchises, there's a good chance Ken, Ryu, and the gang will make an appearance on our favorite portable platform.
Okay now who wants to test my my hadouken?