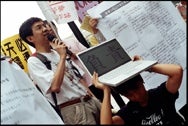 Apple has come under fire this week for working conditions at one of its Asian component suppliers. This time, attention has fallen on Taiwanese company Wintek, which makes TFT panels for LCD displays; the company has also recently been rumored to be involved in the construction of an Apple tablet device.
The Global Post reports that one of Taiwan's labor groups, the National Federation of Independent Trade Unions, has accused Wintek of firing 600 workers without notice in December, as well as reducing salaries, forcing workers to put in overtime to meet rush demand, and maintaining unacceptable conditions at one of its subsidiaries. The group has taken up a protest, targeting Apple after attempts to deal with Wintek were unsuccessful.
On Thursday morning, members of the group gathered outside of Apple's Taiwan headquarters to protest with signs and slogans, with one member even going so far as to hold up a MacBook with "responsibility" displayed in Chinese characters on the screen.
The protesters want Apple to put pressure on Wintek to fix the issues at the factories. Wintek, meanwhile, has denied the allegations, saying that it handled the matters with the necessary propriety. An Apple spokesperson reiterated the company's supplier responsibility policy, but did not give any further comment.
This isn't the first time that Apple has found itself targeted for working conditions at one of its suppliers. In 2006, the U.K.'s Mail on Sunday exposed problems with the conditions of one of Chinese component maker Foxconn's plants, where iPods were manufactured. Apple launched its own investigation, which found that there were violations—as Foxconn owner Hon Hai had meanwhile admitted—and moved to correct them.
[Image via Global Post]