$525 news today. Fine in nature, But results in reality. Think human.
OK, that's not the greatest poem ever written. But it's one of the better poems ever written on an iPhone. Or, at least, my iPhone. I wrote it with Touch Poet, a charming $3 iPhone app clearly inspired by Magnetic Poetry.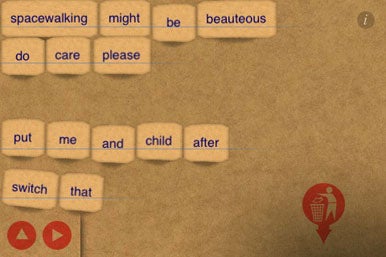 Touch Poet could have settled for cute, but didn't. Instead, the app includes some very smart features. As you add words to your available pool, you can choose your sources, from Shakespeare or Poe to Digg.com. As you tap to add words, they appear on small slips of paper that you can push around the screen to arrange your creation. Removing individual words—or starting with a clean slate—is easy, too.
Unlike the real-world magnetic version, Touch Poet makes it simple to add your own words; a double-tap at the bottom of the screen brings up the virtual keyboard, which is extremely useful when you just need one verb or preposition to perfect your masterpiece.
Touch Poet lets you publish your missives to Twitter, or share them using Mail. Or, you can tap to wipe your screen clear, and start creating your next bit of poetry.
Developer Morgan Brown Consultancy also offers a free lite version.
The app's look and feel are smarty implemented, and pushing words around the screen just feels right. Touch Poet is a delight to play—and compose—with.
Touch Poet is compatible with any iPhone or iPod touch running the iPhone 2.2 software update.
[Lex Friedman, a frequent Macworld.com contributor, blogs at lex.lexandlauren.com.]