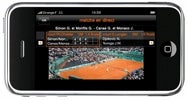 This just in: Apple has sold one million iPhones…en France. Despite being one of the first countries outside of the U.S. to offer Apple's handset, it's taken eighteen months for wireless provider Orange to hit the same milestone that Apple achieved in the U.S. in just 74 days.
The iPhone was released in France in November 2007, though sales were rather lackluster compared to those in the U.S., with Orange selling only 70,000 units in 2007. However, the number seems to be more or less on pace with other overseas markets: Apple's partner in the U.K., O2, started selling the iPhone slightly earlier than Orange, and it hit 1 million units this past February.
Still, that doesn't mean the 1 million mark isn't a cause célèbre in France. Orange has announced that, starting on May 23, it will offer unlimited use of the Orange Roland-Garros iPhone application to iPhone users. The app gives users access to live TV content of the French Open tennis series via Wi-Fi, as well as the daily timetable, results, and match highlights.
Orange may be facing stiffer competition in the near future though, as a Paris appeal court recently upheld a decision that ruled against Apple's exclusive deal with the provider. At present, however, Orange remains the only company to offer the handset in the country.