Recently, I wrote about controlling iTunes from the keyboard, but that article dealt with keyboard shortcuts and tips when iTunes is the frontmost application. There are also ways to control iTunes when you're working in other programs, without having to switch to iTunes to control it. iTunes provides some ways of controlling it, but third-party iTunes controllers give you a plethora of options, and offer some unique features as well.
The first way to control iTunes when it's in the background is via the Dock. You probably know that you can perform operations on some programs by clicking and holding on their Dock icons. With iTunes, the menu that displays from the Dock icon shows what track is playing and its artist, lets you set ratings, and lets you play or pause the current track, go to the next or previous track, turn on or off shuffle or repeat, and mute or un-mute iTunes. While these features are nice to have from the Dock icon, they require that you use your mouse and click on the Dock.
Other programs let you carry out similar actions but from the keyboard. I use Eternal Storms Software's GimmeSomeTune (payment requested), especially for its keyboard shortcuts. One shortcut plays or pauses, another set of shortcuts controls the volume, and a group of shortcuts even lets you rate tracks from the keyboard (you can customize all the shortcuts to use the keys you want). A floating window can display when tracks change, or show information about your current track.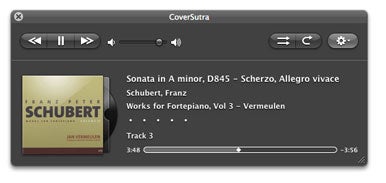 Besides these features, GimmeSomeTune can download artwork and lyrics for your music automatically. If you like to sing along with your songs, you can display a floating Lyrics window while your music is playing. GimmeSomeTune also lets you control iTunes with an Apple remote, can set your iChat status message to show what you're listening to, and offers an additional clickable mini-controller in the menu bar. GimmeSomeTune adds a menu-bar icon so you can access some of its features, control iTunes from its menu if you prefer, and display or hide its info window.
Another excellent iTunes controller is Sophiesticaton Software's €15 CoverSutra 2.1 ( CoverSutra 1; ). This program offers control features similar to those of GimmeSomeTune—you can play or pause tracks, apply ratings, and turn on and off shuffle or repeat—but it also offers a Spotlight-like music search bar that displays when you click on its menu-bar icon. You can search by song, album, artist or playlist, and start playing music from the results window. The program can display a floating window when tracks change, or a small window that displays just below the CoverSutra icon in the menu bar. CoverSutra can also display a player control window, which gives you full access to iTunes playback and rating controls in a floating window.
For basic iTunes controls, however, you may already have an application that can help. Some application launchers, such as Many Tricks' Butler (payment requested), Objective Development's €24 LaunchBar and Blacktree's free QuickSilver, offer features that let you get at your iTunes music or control iTunes. LaunchBar lets you browse your library and launch any item, as well as control iTunes' playback. Butler includes Smart Items that let you control iTunes, such as play/pause, next or previous track, and volume controls; and QuickSilver offers similar controls.
There are plenty of other iTunes controllers—including Wincent Colaiuta's €5 excellent Synergy—as well, so look around and you'll find something that should work for you. What's your favorite iTunes controller?