Over the past few weeks, I've covered a few ways to lighten your laptop bag and reduce bag clutter. One suggestion was to carry short cables and adapters in lieu of full-sized versions. Another was to make your AirPort Express Base Station double as a USB charger for iPhones, iPods, and other gadgets. Those articles turned out to be quite popular; while serious road warriors may not be able to do without particular heavy gear, most people can lighten the load of gadgets they carry when traveling.
In that spirit, I wanted to wrap up this miniseries of Mobile Mac articles by showing you a few of the other small-and-light gadgets I carry with me, as well as a couple newer items I've been testing that similarly aim to help you cut down on bag weight. (Some of these items I've covered individually in the past; I've linked to those articles in the text below.)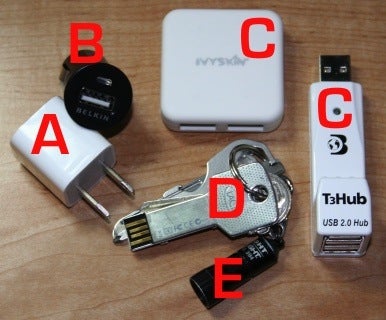 Apple USB charger (A): If you aren't bringing along an AirPort Express, and you don't want to keep your laptop on all night while your iPhone or other gadget charges via the laptop's USB port, you need a USB charger in your travel bag. The smallest one I've seen is the Apple USB Power Adapter, essentially a 1-inch cube with wall-outlet prongs. It's even compatible with 100- to 240-volt wall outlets, making it an option for international trips. The downside? A $29 price tag. But at least Apple includes an extra USB dock-connector cable.
Belkin Micro Auto Charger (B): Speaking of power, when I'm traveling, I'm often driving a rental car that lacks my usual stash of auto accessories; what I miss most is a way to charge my iPhone, iPod, or GPS while driving. Belkin's $15 Micro Auto Charger plugs into a car's accessory outlet (a.k.a., "cigarette-lighter jack"), sitting nearly flush, and lets you connect any device that can be charged via USB. Unlike many auto chargers, it provides 1A of power for faster charging of iPhones and GPS units. It's easily the smallest and lightest auto charger I've seen, and it takes up so little room there's no excuse for me to leave it at home. (A $20 version includes a USB dock-connector cable.)
A compact USB hub (C): I try not to bring too many USB peripherals when traveling, but there are still times when I need to connect more devices than I have USB ports. This is especially an issue when using a laptop with only a single USB port, such as the MacBook Air (or my newest project, a Dell Vostro A90 HackBook). Luckily, there are some tiny hubs out there. My favorite is Dr. Bott's 3-port T3Hub ($20). What makes the T3Hub unique, besides its compact size, is that it lets you connect a high-power device, such as a USB hard drive, along with two low-power devices; many port-powered USB hubs won't work with high-power devices. It weighs less than an ounce and comes with a short USB extension cable.
I've also recently been testing IvySkin's $25 USBHUB. This generically-named hub is just 1.8 inches square and 0.6 inches thick and provides four USB ports, promising USB 2.0 high-speed throughput to each connected device. The IvySkin hub connects to your Mac using an included 4-inch USB-to-mini-USB cable, and also includes a hardshell case that holds both the hub and the cable. (Though protective, I find the case to be a waste of space when traveling—it's over twice the size of the hub itself.)
Another option, though one that's a bit larger, is Moshi's Cardette, which combines a two-port USB hub with a universal memory-card reader.
LaCie iamaKey (D): Any road warrior worth his or her salt knows you should always have a USB thumb/flash drive handy in case you need to quickly transfer files from one computer to another. The problem, for me, at least, is that I seem to need such a drive only when I don't happen to have my laptop bag with me. I've recently been testing LaCie's iamaKey, and it's turned out to be far more useful—and far less gimmicky—than I expected. The iamaKey is simply a USB 2.0 flash drive—$27 for 4GB of storage, or $37 for 8GB—that looks like a key. In fact, the metal enclosure isn't much bigger than my house key, so it sits on my keychain without the bulk of most "keychain" flash drives—I don't even notice it's there and I always have it with me. While more expensive than plastic thumb drives, LaCie claims the gold USB connector is scratch- and water-resistant, and the metal enclosure provides protective edges that help the iamaKey handle the abuse it's sure to take on your keyring. After a couple months sharing a keyring with the other metal objects you can see in the photo above, the iamaKey is still working perfectly.
Nanolight Flashlight (E) A flashlight is an invaluable tool when gear is located in dark places—behind desks, in closets, and inside entertainment centers—or when I need a better look inside, say, a computer case. But even a "penlight" is weight and bulk I don't need. Streamlight's $10 73001 Nanolight is one of my favorite "ooh, cool" gizmos: It's a tiny aluminum-enclosure flashlight, just over an inch long and a quarter-inch thick, that weighs next to nothing. The Nanolight clips to my keyring and offers a surprisingly bright LED light—brighter than the two-AA MagLite now relegated to the "junk drawer" in my toolbox. Of course, a bright flashlight can come in handy in many non-tech situations, as well, which is an added bonus.
LaCie Little Disk (F): If you value your laptop's data, you know to back it up, even while on the go. One way to save weight is to back up to an online service such as Mozy or DropBox. But I prefer the speed and extra capacity of a physical hard drive—specifically, a 1.8-inch drive, which, though currently limited to 120GB capacity, is roughly half the size of a standard (2.5-inch) portable drive. LaCie has one of my favorite solutions here, as well: the 120GB Little Disk, a bus-powered drive that's only 3.2 by 2.5 by 0.7 inches in size and weighs only 4.4 ounces. You could get more capacity for your $150 with a 2.5-inch drive, but I like that the Little Disk fits places a 2.5-inch drive can't and weighs less than my mobile phone. (Last year, I tested—and ended up purchasing—the 60GB version, shown here, which now occupies a permanent space in my travel bag.)
Switcheasy ThumbTacks microphone (G) I like to be able to take on-the-go voice recordings—of presentations or interviews for work, of the kids on vacation, or of voice notes to myself—and I often use my iPod to do it. SwitchEasy's ThumbTacks is easily the most portable iPod microphone out there. It works with the latest iPod nano, classic, and touch models, protruding only about a half an inch from the iPod's headphone jack, and because of the ThumbTacks's headphone-plug size, you can even use it if your iPod is in a protective case. Although the audio quality isn't quite as good as that of the Incipio Lloyd or more-expensive stereo microphones, it's more than adequate for voice recording. And the ThumbTacks isn't just the smallest iPod microphone on the market; it's also the least-expensive I've seen at just $13.
iPhone/iPod touch stand (H) As Macworld's iPod/iPhone accessory guy, I see many, many pitches for stands that hold your iPod touch or iPhone while watching video. But most of these products take up more space in my bag than they should. For my trips on planes and trains, I bring along this tiny, lightweight stand. I just place the stand on a desk, table, or airline-seat tray and place my iPhone or iPod touch in either slot; one side offers a viewing angle of around 45 degrees, the other around 60 degrees. The one I carry originally came with a case from Incipio; several other vendors include similar stands with their cases, and the original iPod touch even included one (although that one doesn't work with the iPhone). Unfortunately, I don't know of a vendor that sells one of these stands separately; if you know of one, please post the info in the comments, below.
Logitech vX nano (I) OK, so this one isn't tiny, but given the context of my personal needs, it's small enough. For ergonomic reasons, I'm not a fan of trackpads for extended use, so I carry a mouse in my laptop bag. But the rub is that ergonomically, a tiny mouse isn't much better than a trackpad—in some cases, it's actually worse. So the mouse has to be large enough to use comfortably. My favorite portable mouse—the one that offers me the best tradeoff between size, comfort, and features—is Logitech's VX Nano. You can read my full review, but suffice it to say that it's comfortable and functional enough to use for extended periods while weighing just over 3 ounces.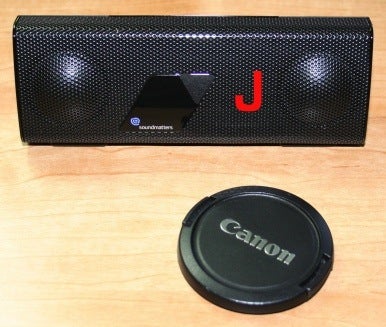 Soundmatters foxL (J) Finally, a very cool, though not inexpensive, product I've been testing is the foxL speaker system j($199). At just 5.6 inches wide, 2.2 inches high, and 1.4 inches thick, it's not the smallest stereo speaker system I've tested, but it's certainly tiny. (The photo here shows it next to a camera-lens cover to give you some perspective.) More important, I haven't seen—or heard—a portable speaker that offers better volume and audio quality per cubic inch. The foxL provides 4 Watts of power per channel, left and right 1-inch drivers, and a proprietary lithium-ion battery that acts as a radiator to provide surprising lower-frequency response. There's even a true subwoofer output for when you get home. Of course, a speaker this size can't compete with a much-larger system; if you push it too hard, you will hear some distortion; and as with any speakers, the foxL adds some weight (around 9 ounces) to your bag. But you'll be hard pressed to find better audio per ounce. (A $249 version, the foxLmb, includes Bluetooth and a microphone for wireless audio streaming and speakerphone functionality.)
Of course, not everyone needs all these gadgets, and even I don't carry all of them all the time. But after years carrying too-heavy laptop bags and backpacks, I've become a sucker for anything tiny and functional. And it's not just out of gear lust; to paraphrase a famous saying, an ounce here, an ounce there, and pretty soon you're talking real weight.
Got any other suggestions for weight-saving gear? Let us know in the comments, below.