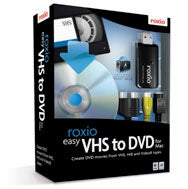 On Tuesday, Roxio introduced Easy VHS to DVD for Mac, a hardware and software combination for digitizing analog video for burning to DVD, putting on an iPhone or Apple TV, or uploading online.
The $80 Easy VHS to DVD uses a USB 2.0 capture device to convert analog video from VCRs, camcorders, and the like (NTSC or PAL) using composite or S-Video cables and RCA-type stereo audio cables. It converts your video to standard (4 Mbps VBR) or high-quality (6 Mbps VBR) MPEG-2 files with the help of the Roxio Easy VHS to DVD Capture application. Once captured, you can burn the video to DVD using the included Toast Basic software, or send it to QuickTime Player, or iMovie HD, '08, or '09, for editing and converting to other formats.
Easy VHS to DVD runs on an Intel or a dual-processor or dual-core PowerPC G5 Mac, and works with OS X 10.4 and 10.5.
Elgato Systems recently released a similar product, the Elgato Video Capture device, which costs $100 and converts analog video to H.264 or MPEG-4.