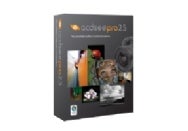 A Windows version of the ACDSee photography software has been around for a dozen years. This week, ACD Systems saw fit to make a Mac version available to the public. On Wednesday, the company made a beta version of ACDSee Pro for Mac available to the public.
One of the application's main features is that it apparently skips the step of importing files from various drives as it automatically detects various devices and drives, and lets users drag-and-drop images instantly. ACDSee also supports more than 40 various file types, including movie and documents formats. In the future, the company plans on adding additional Mac-specific features, like Cover Flow and Quick Look.
You can download the beta directly from ACD's Web site. The final version will be out in 2010. At that time, ACDSee Pro for Mac will be available for a free 30-day trial and for purchase for $170.
We're presuming by that point they'll have added a Mac logo on the box, too.