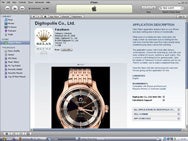 French jeweler and watchmaker Cartier sued Apple on Friday for infringing on its trademark, according to The Associated Press, Dow Jones, and others.
According to the reports, the suit—filed in U.S. District Court in Manhattan—contends that Digitopolis' Fake Watch and Fake Watch Gold Edition time-displaying iPhone apps improperly use Cartier's trademarks. Apple is being sued for allowing the apps for download on its App Store.
As of this writing, both apps were unavailable on the U.S. App Store.
Update: The Wall Street Journal reported on Saturday morning that Cartier has withdrawn the lawsuit, with an attorney representing the company saying, "our concerns have been addressed."
Note: When you purchase something after clicking links in our articles, we may earn a small commission. Read our affiliate link policy for more details.