WordFu, a $3 game from ngmoco, isn't your mother-in-law's jumble game. It's a manic-paced, cleverly-crafted iPhone app that takes only a minute to play. The game is both fun and funny, and well worth a download.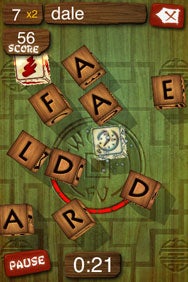 WordFu takes five or six seconds to load, but once it's open, everything about it is fun. The theme music has a great Far Eastern sound, with lots of manly Fu-inspired chanting and grunting in the background to set the mood. The sound effects are similarly amusing, full of Kung Fu-esque cries.
When the game starts, you'll have nine letter dice in front of you. You have 15 seconds to tweak these letters: Shake the iPhone, they'll all change. Flick an individual letter, and it changes. You want a good smattering of letters, because once this intro time is up, you'll have just 45 seconds to find as many words from those letters as you can. You spell words by tapping the letters, and submit them by giving the iPhone a shake or tapping at the top of the screen. Point values increase as you spell longer words or use rarer letters. Unlike most jumble games, you're allowed to reuse letters within the same word. (Finally, a game where "successes" is playable!)
When your 45 seconds are up, WordFu will spell out a message to you—"Good Job" or "Try Harder." In addition to traditional high scores, the game also stores belts you've earned: the White belt is for scoring a 25-point word, green means you've achieved a 550-point round, and so on. Word Fu also stores any records you've set, such as "Best word: Lipper—45 points."
I found myself looking for a button on the bottom of the screen to submit words—the shake submission didn't feel right to me, and my brain kept forgetting to tap near the top to submit instead. But that's really pretty picky. WordFu plays fast, and it's a blast.
WordFu is compatible with any iPhone or iPod touch running the iPhone 2.2 software update.
[Lex Friedman used to blog. Then he discovered WordFu.]