The following article is reprinted from the Today@PC World blog at PCWorld.com.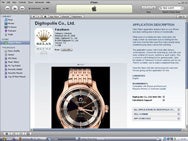 Apple removed two iPhone applications from its App Store that allegedly infringed on the trademark of Cartier International, according to the Wall Street Journal. The move came just one day after the French jeweler and watchmaker filed the suit against Apple for distributing the free iPhone application Fake Watch and selling a premium Fake Watch Gold Edition. Both apps told time with look-alike famous wrist watches, including Cartier's Tank watch.
In response to the removal of the iPhone apps, Cartier withdrew its lawsuit, as the Wall Street Journal reported this weekend.
Apple didn't return either a voice mail or e-mail request for comment.