Textfree Unlimited, a $6 app with a free lite counterpart, aims to let you send text messages for free, without using the SMS app or your mobile provider. Other apps such as SMS Touch ( ) have the same aim, but Textfree handles Internet-based texting much more elegantly .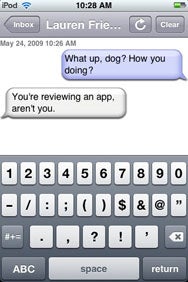 The first question to answer is who exactly needs Textfree. iPod touch owners, of course, are obviously in the target demographic for Pinger's app; the Wi-Fi-only crowd can't text the old-fashioned way and need workaround systems like the one Textfree provides. But heavy texters with actual iPhones who want to avoid the cost of adding text messages to their mobile plan might benefit as well.
Textfree—which works with U.S. mobile numbers only—isn't quite as polished as a true native Apple app, but it still looks pretty nice. Unlike the built-in SMS app, Textfree works in both portrait and landscape mode. The joys of widescreen texting can't be overstated, and if you don't want to wait for Apple's iPhone 3.0 update to get it, that may be reason enough to buy Textfree now.
If you need more reasons, though, Textfree still offers a variety of other convincing features. The app integrates nicely with your existing contacts, complete with the familiar type-ahead interface. And your contact's photos show up, too. Unfortunately, there's no way to sort the address book; the app's default of alphabetically by last name can't be changed.
When you send your friends text messages, they come from Textfree's special number. Fortunately, each message sports your name so that your friends can tell you're the one who wrote to them. If your buddies reply, their texts show up right in the app… but only if the app is running at the time. You can configure Textfree to send you e-mails each time you receive a text, which is currently the only way you can get "background" notifications of new messages. That might get unmanageable if you're a heavy texter, but without leaving the app open 24/7, there's really no other way to keep on top of your incoming messages.
Even though Textfree lets you text messages without a charge, your recipients may incur a cost depending upon their plan. The app does offer a feature if your friend is also using Textfree to make sure that your messages to each other go through the app (at no charge), every time. And if your pals send their texts to your regular mobile number, instead of to Textfree's shortcode, those get sent as "regular" SMS messages, which may cost you as well. As long as your friends remember to text you via the Textfree number, you'll be fine.
Textfree Lite limits you to 15 text messages a day, and shows occasional ads. The ad-free $6 Unlimited version has no texting cap.
The app's iChat-esque look and feel work perfectly. Folks who fall into either the iPod touch or "frugal/frequent texter" will find that Textfree performs quite capably. The app's design limitations aren't overly frustrating, and the attention to detail makes texting from within Textfree a breeze.
Textfree Unlimited is compatible with any iPhone or iPod touch running the iPhone 2.x software update.
[Lex Friedman blogs at lexfriedman.com.]