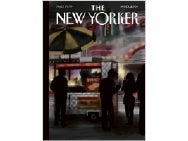 Last fall, we told you that The New Yorker artist Bob Staake does his cover illustration using Adobe Photoshop 3.0—yes, a version from 1995.
Now comes the tale of another New Yorker cover artist, taking an entirely different technological approach. For this week's edition, Jorge Colombo created the entire cover using the iPhone application Brushes.
Colombo no doubt used his incredible powers of reasoning and deduction to determine that the $5 he spent on the app were well worth it.
The magazine's art editor, Françoise Mouly, told The New York Times that "it doesn't feel like something that was done digitally," adding that the image was "poetic and magical."
You can scope the video below: