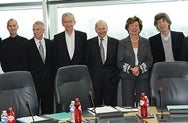 Avid readers may recall last year's September roundtable in Brussels on the subject of breaking down the barriers for online competition in the European Union. Maybe you didn't pay it much heed, but when Steve Jobs, European Union Competition Commissioner Neelie Kroes, and tight-pants aficionado Sir Mick Jagger all sit down at the same round table, you bet your sweet Belgian waffles we're following every word.
At the time, however, we only got a few comments from the participants of the meeting about how important it was to increase consumer choice. Now, however, the European Commission has released the notes from that meeting (PDF link), which also featured executives from eBay, EMI, and Fiat, in its pre-Chrysler days. Also included in the report are the proceedings of a followup meeting in December of last year, focusing particularly on online music distribution.
The meat of the issue, with regards to Apple, is that the company still does not offer one unified European Union-wide music store, leaving some countries—particularly in the east of Europe—out in the cold. Apple did, however, earn plaudits from the commission for excising unfair pricing in the U.K.
As you might expect, Apple pointed a finger at the licensing entities, arguing that it is much harder to obtain music licenses for Europe, with its varied and various legal entities, than in the U.S. Therefore, there are European countries in which Apple doesn't deem it worthwhile to operate the iTunes Store, given the costs of acquiring the necessary licenses combined with the lack of a market for digital downloads.
However, were the licensing situation to change—and Apple makes several suggestions in the course of the meeting as to what those changes might entail—the company says it would be willing to think about expanding iTunes's operations into all European countries, including the Eastern European countries that it does not at present support. That would seem to place the ball squarely in the European Union's court.
We remain uncertain as to the purpose of Sir Mick's presence at the meeting, since he is not mentioned in the report beyond the initial attendance list. We like to think that, at a covert signal from Steve Jobs, Jagger hopped up on the table to serenade Commissioner Kroes with a heartfelt rendition of "Satisfaction," but we admit that this requires an in-depth reading between the lines.