The best iPhone games tap into the power of the device in unusual ways. Fieldrunners ( ) is cool because the tower-defense game supports touch and pinch. HeavyMach ( ) makes ample use of the accelerometer. Likewise, Smule touched a nerve in 2008 with Ocarina ( ) because it turned your phone into a musical instrument.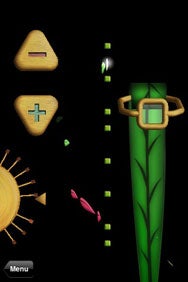 Leaf Trombone: World Stage takes this concept—playing a song by blowing into the iPhone's microphone—and adds Guitar Hero-like gameplay. An online mode—where you perform for other users and judge another player's performance in real-time—and a nifty Mac-based Composer make Leaf Trombone addictive and fun, if you enjoy a challenge.
And Smule's game is definitely a challenge. It helps to know a little about music, although anyone can learn the basic mechanics. On the iPhone, you blow to produce the sound and move your finger to change notes. (For iPod touch users, you just touch to play music.) You press a big plus and minus icon to change octaves. There's a free play mode where you can just mess around.
Under Settings, you can adjust the root note (it is C by default) and change difficulty, which controls how Leaf Trombone snaps to the desired pitch as you move your finger.
The real fun starts when you play along with a recorded song. Here, the app works a lot like Guitar Hero in that you see tiny leaves floating toward the trombone—some big, some elongated, some small. You move your finger and blow in time with the notes. For example, you might play "Twinkle Twinkle, Little Star" as the leaves come flying toward the trombone. Once you have mastered the controls, it is satisfying to become an iPhone maestro. (A Free & Lite version of Leaf Trombone lets you learn how to play the instrument without some of the advanced performance features of the World Stage version.)
Early on, a few users complained that there were only a few songs, but that has changed quickly; now there are hundreds of great songs availble through Smule's Web site. I found user-submitted tunes by The Fray and Coldplay easily enough. There's a wide selection of well-known classic rock songs, pop hits, and folk tunes.
Another interesting mode is called World Stage, where you perform for three other players—called judges—in an online setting. Judges rank your performance, and you can progress through 10 levels. (When you judge others, you progress through 10 judging levels as well.) This adds incentive to keep learning the ropes. On your Mac, you can compose your own songs and share them with other players.
Leaf Trombone probably won't beat out Fieldrunners and few other games for overall popularity. It's actually pretty tough to master. I play guitar and piano, but I had a hard time learning songs I knew well because of the small screen and fast pace. Also, unlike a real instrument, Leaf Trombone is not always ready when you want to play—if you quit the app, you have to start it all over again. (That may change with the iPhone 3.0 firmware update.) Playing on the world stage takes guts—since anyone can comment during your performance, you need thick skin.
The game is not always perfectly stable. In the mode where you search for a song, the iPhone would occasionally freeze—and I had one complete crash where I had to reset.
Overall, Leaf Trombone is insanely addictive once you feel the lure of the World Stage and really want to compete note for note with other players. Sure, Leaf Trombone is hard and not perfectly stable, but it's one of those games that uses an iPhone in a creative, compelling way.
Leaf Trombone: World Stage is compatible with any iPhone or iPod touch running the iPhone 2.1 software update.
[John Brandon is a 20-year veteran Mac user who used to run an all-Mac graphics department.]