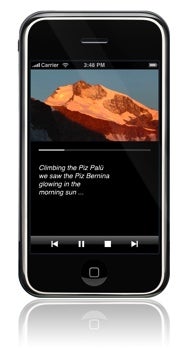 Looking for a way to present your slideshow without having to stand in front of your laptop? Boinx Software on Tuesday released FotoMagico Remote for the iPhone and iPod touch.
FotoMagico Remote allows you to control slideshow presentations on your Mac, created with Boinx's FotoMagico 3. You can play or stop the presentation, as well as tell it to go to the next or previous slide, all from your iPhone or iPod touch. The program also displays a thumbnail of the current slide, along with that slide's speaker notes. Users can also set a four-digit PIN to prevent anyone else from getting access to the presentation.
Like most other remote applications, FotoMagico Remote needs to be able to join the same Wi-Fi network as your Mac, which must be running FotoMagico 3 on Mac OS X Leopard. FotoMagico Remote costs $20 and is available from the App Store for any iPhone or iPod touch running iPhone OS 2.2.1 or later.