At a Glance
Expert's Rating
Pros
Lots of customization options
Cons
Disappointing image quality
Skimpy on inputs (and no PC support)
Our Verdict
Plasma once dominated in the 46-inch flat-screen category because LCD panels that size were far more expensive. That's changed; the differences aren't as large as they once were, but Panasonic continues to compete with plasma sets such as the 1080p Viera TC-P46S1. This HDTV is well-designed, but our test results suggest that plasma has also lost its traditional edge over LCD for image quality, especially for cinematic content.
In our lab tests, the TC-P46S1 received average scores for brightness (and judges remarked on how well it looked viewed from the side), but it was dragged down by subpar ratings for color, sharpness and detail, and overall image quality. Judges noted a greenish cast to skin tones and also complained about oversaturation in its display of a still image as well as shimmering in buildings and moire patterns on a suit. The set also struggled with our motion tests; we found this surprising, given that plasma technology shouldn't suffer from problems with panning and fast motion as LCD panels do (LCDs need to step up to 120Hz or 240Hz refresh rates to minimize such issues).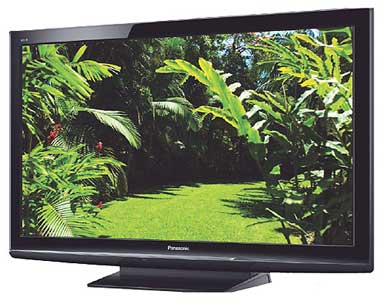 The set's design is fairly typical, with a shiny black bezel that's on the wide side (a couple of inches). Panasonic is a bit skimpy on inputs, with only three HDMI ports (two in the back, one on the side) and no support for connecting a computer. All inputs are easily accessible and well labeled, however.
Turning on the TC-P46S1 for the first time launches a very basic first-time wizard, which checks for language preference, date and time setting, and TV video source (antenna or cable) before beginning its channel tuning scan. At the end of the scan, instead of simply displaying a station, Panasonic invites you to look over the list of channels the set has found, and edit them to your liking (you can remove ones you don't want to see when surfing).
The main menu pops up as a simple text list with small icons (for most items) in a blue column on the left side of the screen. Choices are: Viera Link (for setting up control of other Panasonic home entertainment components), Picture, Audio, Timer, Lock (for parental controls), SD Card (for viewing photos on an SD memory card), Closed Caption, and Setup. Navigating Panasonic's menus can take some getting used to since you have to use a Return button on the remote to back out of a menu.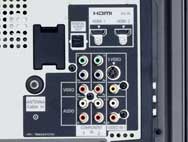 The Picture menu lets you choose from five presets, with Vivid as the default (probably with retail display in mind). Others are Standard, Cinema, Game, and Custom (based on your preferred contrast, brightness, color, tint, and sharpness settings, available immediately below the preset options).
This menu also provides on-off toggles for adjusting contrast, based on ambient lighting (it's called C.A.T.S., for Contrast Auto Tracking System); applying a 3D Y/C filter to clean up color that may have leaked into adjacent pixels; and applying video noise reduction to MPEG content from peripherals. From the same menu, you can also set color temperature (cool, warm, or normal); choose image resolution (SD or HD) for component-connected devices; and make image size and positioning adjustments.
Audio settings include the usual treble, bass, and balance, as well as a volume-leveling feature that's supposed to suppress unusually loud volume on, say, a particularly obnoxious ad. I found the surround-sound simulation to be fairly decent, but the overall audio quality was unremarkable and even tinny in places, with poor dynamic range (turning the volume up all the way didn't make the opening scene of Phantom of the Opera on Blu-ray all that loud).
The Time, Lock, and Closed Caption settings were fairly standard, and the SD Card item merely provides information about the contents of any card you insert in the slot on the left edge of the TV.
The Setup item, however, provides a wealth of assorted options. You can change any of the settings you created with the first-time wizard, create customized input labels, set up antiburn-in technology (called pixel orbiter), change the brightness of the bars that appear on either side of content appearing in 4:3 aspect ratio, instruct the set to play SD Card content as soon as you insert a card, and access several power-saving settings. Those last settings are worth considering, as the set's power consumption was one of the highest in its test group—not surprising, since plasma displays are generally much more power-hungry than LCD screens.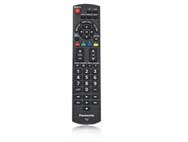 The TC-P46S1 will create a slideshow from JPEG images on an SD Card, and you can rotate the images if need be. But the set doesn't support any music playback, so your slideshow can't have a musical soundtrack.
Panasonic's long, slim remote offers many handy buttons for accessing specific controls and menus. A Viera Link button controls Panasonic peripherals (you should also be able to program control of other HDMI-connected peripherals, since the set supports the HDMI CEC standard for doing so). A Viera Tools button brings up four icons: The first displays the Viera Link menu, the second launches a slideshow using images on an SD Card, the third sets the sleep timer, and the fourth (although labeled Game Mode) allows you to change to any of the image presets. Couch potatoes and casual viewers alike may appreciate the Sub Menu button that lets you access channel surf mode (you can opt to see all channels, only those you've designated as favorites, only digital channels, or only analog channels), change a channel's label, or check the signal strength of a problem channel.
Additionally, the remote has an input button for quick switching between peripherals; a format button for changing aspect ratio; an Info button that shows (or hides) channel info (such as station identifier, broadcast mode, screen resolution, and audio support), and a Last button to toggle between your current channel and the last previously viewed channel.
Panasonic Viera TC-P46S1
| | |
| --- | --- |
| Performance | Good |
| Features | Good |
| Design | Very Good |
Scale = Superior, Very Good, Good, Fair, Poor
Panasonic's documentation is excellent. The TV comes with a small but very clear quick-start sheet and a well-illustrated printed manual that bundles three versions (but separately, one behind another): English, French, and Spanish. The manual is also available for download online.
Macworld's buying advice
Usability is clearly not an issue with the Viera TC-P46S1. But the time when we would have snapped up a halfway decent 46-inch plasma for $1000 has passed, and the Viera TC-P46S1's disappointing image quality definitely puts a damper on our interest.
[Yardena Arar is a contributing editor for PC World.]