GazoPa can help you find online images that match another image, whether it's a photo stored on your iPhone or a picture in your head. Hitachi's free iPhone app allows you to draw an image with your finger, take a photo with the iPhone camera, or load a source image stored on your iPhone and find images that match the original. For example, you can draw a vase and find pictures of vases on the Web, or snap a photo of a chair and find other images that have the same basic form and structure.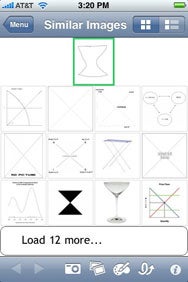 The app works by analyzing the angles and lines of the source image and finding matches online. Once you find an image you want, you can view it on your phone (from within GazoPa) or in the mobile Safari browser; you can also e-mail the match to anyone or store it in your camera roll.
GazoPa offers good customization options: you can control search criteria such as color, layout, shape, and face, which all determine the kinds of results you see. One example: I searched by the shape criterion and drew a vase; GazoPa returned images with almost the exact layout. When you search, you can reposition the source image and zoom in or out to improve results. The app searches for both images and video, and you can search for only videos. There's also an image-size setting.
The real question with an app like this is: does it work? For the most part, GazoPa does find similar images, but that can be a little hit or miss. I drew a smiley face, and the app found other smiling face drawings, which is not that useful. Compared to a robust same-search engine such as Google Image Search, GazoPa was not as intelligent. Google Image Search does let you draw images, but when I used a source image of my own pet (a border collie), Google had a much easier—not to mention faster—time finding similar images. GazoPa occasionally includes images that seem to have northing to do with the source.
And here's the rather strange discovery. The tool has a safe search setting which is supposed to weed out explicit photos and videos. I happened to snap a photo of a dry erase marker at my desk and searched with GazoPa. Shockingly, with the safe search on, the app returned many explicit images. The company told me that it's working on improving the app's filter but has not yet resolved this particular problem. So using GazoPa comes with a disclaimer, especially for minors: use it at your own risk, because you never know what you might see.
Because of that problem, I can't recommend this free app—it's easier and faster to use Google Image Search form your Mac or iPhone. And GazoPa's results are not as reliable (or safe) as I would like. Until the tool improves its content filter, it is one to avoid.
GazoPa is compatible with any iPhone or second-generation iPod touch running the iPhone 2.2.1 software update.
[John Brandon is a 20-year veteran Mac user who used to run an all-Mac graphics department.]