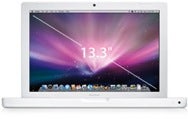 The $999 MacBook may not feature the same swank aluminum togs as its older siblings, but that doesn't mean that it doesn't get its share of the family love. On Wednesday, Apple marginally bumped the specs on the base configuration, giving customers a little more bang for their sub-thousand bucks.
Strangely enough, the white polycarbonate MacBook actually now sports a 2.13GHz Intel Core 2 Duo processor—faster than its nearest relative, the $1,300 aluminum MacBook. Other specs on the $999 configuration have been brought closer to the mid-range model: it now sports 2GB of 800MHz DDR2 RAM (up from the previous incarnation's 2GB of 667MHz DDR2 RAM) and a 160GB SATA hard drive instead of the last model's 120GB drive.
Otherwise, though, the MacBook remains unchanged, retaining a mini DVI port instead of the aluminum's mini DisplayPort connector, the Nvidia GeForce 9400M graphics it added a few months ago and—we're sure you'll all be happy to know—keeping its FireWire 400 port. Clearly Apple isn't ready to put the white MacBook out to pasture just yet.