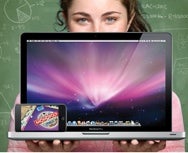 When I was a kid, back-to-school shopping took place towards the end of August, and mainly consisted of buying pencils, notebooks, and folders for my Transformers Trapper Keeper. But for kids today, not only does back-to-school shopping start at the end of May (when for many school's not even over yet), but they're shopping for laptops and iPods.
Yes, it's time once again for Apple's annual Back to School promotion. Those stuck with yet another year of seemingly interminable schooling can somewhat ameliorate the torment by picking up a free iPod with the purchase of any qualifying Mac.
Here's how the deal works: shop for a Mac at Apple's Online Store for Education or at an Apple Store (or authorized campus store), and buy your computer and an iPod at the same time (before September 8, 2009). Then fill in the online rebate claim and submit it by October 8, 2009, and Apple will give you back the price of the iPod.
Of course, it wouldn't be a deal without some fine print. For example, eligible iPods include the 120GB iPod classic, the 8GB or 16GB iPod nano, the 4GB iPod shuffle, or the iPod touch. For the nano or shuffle, you'll get a rebate for the full price of the iPod—h owever, in the case of the iPod classic and the iPod touch, the largest rebate you can get is $229; that's just enough for an 8GB touch, including the education discount, and $20 shy of the price of the iPod classic. For the classic and the 16GB or 32GB iPod touch, you'll have to pony up the difference between the price and the rebate amount. And don't think about trying to be sneaky and picking up a refurbished iPod on the cheap: the deal doesn't apply to them.
The Mac side has some restrictions, too: the Mac mini doesn't qualify for the discount, and neither do refurbished Macs. And, obviously, the promotion is open only to education individuals, including students, staff members, and faculty at K-12 or higher education institutions, as well as parents of higher education students.
Despite the restrictions, the promotion remains a pretty good deal, especially if you're sending little Bobby or Suzy off for their freshman year at state. Still, as cool as those iPod touches are, there's just one thing keeping them from being the bee's knees: transforming robots.
Update: Updated to clarify that deal only covers purchases before September 8th, and does not apply to parents of K-12 students. Thanks to commenters daiya and derekm.