While working on my iPhone spreadsheet apps round-up, one of the apps I was most impressed with was MobileFiles Pro ( ), which was a combination of an Excel editing application and a file transfer/viewer solution.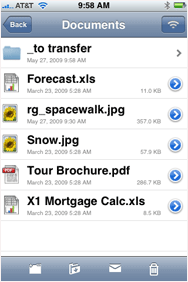 Things move fast in the iPhone app world, though, and MobileFiles Pro has now morphed into Quicksheet. I'm not sure what the differences between the two apps are, other than the new one is $3 more than the old one.
As part of this change in product name and positioning, another product was affected: MobileFiles 2.0, which was essentially MobileFiles Pro minus the Excel editing capabilities. As of today, the program is now called Quickoffice Files, and it offers four basic features:
Transfer files to or from your Mac (or any system that supports wireless networking) using either a web browser interface, or by connecting to your iPhone as if it were an external hard drive (over WiFi).
View various types of files saved on your iPhone.
E-mail single or multiple files from Quickoffice Files.
Work with your MobileMe iDisk. You can view files directly on the iDisk, transfer files to the iDisk from the iPhone or vice-versa, and e-mail files directly from the iDisk.
As a file transfer and storage tool, Quickoffice Files works quite well, especially when mounted as an external drive on your Mac. To do this, you first enable file transfers—and I'd recommend enabling Authentication as well, which will require someone to provide a user name and password of your choosing before they can connect to your iPhone. With file transfers enabled, you'll see your iPhone's IP address next to a small AirPort symbol at the bottom of the screen. In the Finder on your Mac, select Go -> Go to Server, and enter that IP address, then provide the username and password when prompted.
Read more…
After verifying your login, your iPhone will show in the Shared section of the Finder's sidebar, and you can then interact with it as you would any other shared device—drag-and-drop files and folders onto or off of the iPhone, rename or delete files and folders, and so on. This is, by far, the easiest way to work with the files you want on your iPhone.
There's also a Web browser interface, which is well designed and easy to use. However, your behaviors are limited by the Web browser: you can't use drag-and-drop to move files, you can't rename files or folders, files must be uploaded one at a time, and there's no progress indicator showing how long the transfer will take. Given how well the iPhone works when mounted in the Finder, the Web interface is best suited for browsing the Quickoffice files from another mobile device.
On the iPhone itself, you can also create and delete folders, delete or rename files (but oddly, not folders), and sort files into folders. These features all worked well, and the interface shows a running count of selected items, so you'll know how many files you're about to delete or move before you do it.
As a file viewer, Quickoffice Files has its good and bad points. On the good side of the equation, you can view many files types, including most image types (including PNG, which isn't listed in the support documents); Word, Excel, and PowerPoint files; iWork files (though not iWork '09 files); PDF; and HTML web pages. The program even supports Web archive documents, but only those created by Internet Explorer (.mht extension), not Safari's web archives.
On the bad side, there are other many omissions in the viewer's file type support. In addition to the lack of support for iWork '09 and Safari Web archives, Quickoffice Files won't display rich text (.rtf) files, nor can it play AIFF audio or m4v video, despite that being the default video format for the iPhone. In addition, I found it to be very dependent on file extensions; I wasn't able to view a plain text file saved without the .txt extension. As soon as I added the extension, though, it viewed perfectly.
I tested the viewer with a number of file types, and it worked quite well with most all of them. There were occasional minor formatting glitches in Word and Excel files, but certainly nothing that would prevent you from being able to see what was in the file. Zooming in worked really well on images, but zooming out was sometimes jumpy. You can view in both portrait and landscape mode, and the view switches automatically when you rotate the iPhone. (You can only exit the viewer when using portrait mode, though—in landscape mode, the Back button vanishes.)
The e-mail feature in Quickoffice Files is easy to use and well thought out. (You can e-mail any file you've stored on your iPhone, not just those you can view.) Tap the envelope icon, then select any number of files from the list (they must all be at the same level; you can't send files in two different folders at once), then tap Send. A new message window appears, and you have access to your contacts if necessary. You can add text to go along with the file, and optionally include a link that lets users add the attachment to Quickoffice Files—in case your recipients have iPhones and use the app as well.
The last feature of Quickoffice Files lets you work with your iDisk—or with anyone's public iDisk, assuming they've provided you access (if they've password protected it). After configuring your MobileMe iDisk information, your iDisk shows up as a separate source on the main Quickoffice Files screen. Select it, and your iDisk folders show up—though this may take a while the first time you connect, as there's a fair bit of data to transfer.
Once connected, you can use the files on the iDisk just like those that reside on your iPhone—view them, e-mail them, rename them, delete them, etc. You can also move them to your iPhone, and move files from your iPhone to your iDisk. In short, Quickoffice Files makes using your iDisk as an always-there data storage source very easy.
Overall, Quickoffice Files is something of a mixed bag. In three of its four tasks, it does quite well. It makes working with files on your iDisk as easy as working with files on the iPhone; the e-mail feature is well thought out; and when mounted as a WiFi hard drive, it's easy to move files on and off the iPhone, and to rename, move, or delete the files and folders on the iPhone. The Web interface, while nice looking, is much more feature-limited, and not recommended.
The file viewer is where I was most disappointed. I can almost understand not supporting iWork '09, as that's a new file format. But m4v, AIFF, and rich text are all well-established formats that the program should handle. Safari Web archives aren't standards, but they are something that many Safari users rely on.
For $2, I think Quickoffice Files is worth the money for those who have a MobileMe account and want to use their iPhone or iPod touch as a file transfer device. As a file viewer, it works well, but the missing format support may prove an issue for some users.
Quickoffice Files is compatible with any iPhone or iPod touch running the iPhone 2.1 software update.
[Senior editor Rob Griffiths runs the Mac OS X Hints blog.]