At a Glance
Expert's Rating
Pros
Good search options
Very wide feature set
Project dossiers
Cons
Some overlapping features
Occasionally frustrating interface
Our Verdict
If Zengobi's Curio Professional 6.2 had a television commercial, I suspect it would be in the style of the late Billy Mays. Curio is a single application for note taking, outlining, mind mapping, project management, charting, drawing, presenting, and more. Zengobi describes Curio as a brainstorming and project management application for creative types and visual thinkers. Curio executes most of its features with aplomb, but with so many of them Curio puts up a very busy interface.
A Curio document is a collection of "idea spaces." Idea spaces are like slides in Keynote or PowerPoint, canvases upon which you add a mélange of text, images and diagrams collectively referred to as "figures." The simplest figures are lines and shapes that can be drawn on the idea space, then moved, resized, and colored as desired. When an idea space's background is set to mimic notebook paper, text figures snap to the lines, perfect for taking notes. Curio also accepts input from pressure-sensitive drawing tablets so you can doodle on your notepad, too. Though unlike other figures, drawings can't be moved and don't respect layers-they're always on the top layer.
List figures are hierarchical outlines similar to Microsoft Word's outline feature set. In Curio, lists are movable objects that can be dragged to any position on the idea space. Annoyingly, there is no provision for importing lists from other sources, and a block of return-separated text pasted into a list figure will be treated as a single line, not as individual items.
Curio also sports table figures allowing you to create a grid and fill it with text, images and other figures. Compared to the often-maddening table editors in word processors and Web page editors, Curio's tables are refreshingly easy to create and manipulate. Images dropped into a cell scale neatly with the table as it's resized. Selecting cells, even non-contiguous sets, works exactly like it ought to.
Still another figure type is a moveable text box called the index card. In its default form the index card figure looks exactly like a real index card-the same shape, the same 3-by-5 aspect ratio, even the same red line at the top and blue lines below.
The last major figure is the mind map. Mind mapping is a brainstorming and note taking technique that eschews linear, monochromatic writing in favor of a hub and spoke diagram with liberal use of color and images. Curio has all the major components mind mapping software requires: easy creation of nodes, automatic layout, and ample formatting options to customize the shape and color of the nodes and lines. Mind map nodes, like most Curio figures, can be assigned one of five priority ranks from "very low" to "urgent." Figures can be rated from one to five stars, flagged with a variety of icons, and have a checkbox attached. Each of those attributes can be searched against allowing you to find, say, all the flagged figures with a three-star rating marked urgent.
Zengobi touts Curio's project management capabilities, though they mostly amount to the ability to assign start and end dates to figures. Start and end dates for items in a hierarchical figure like a list or mind map can be chained to the items above and below. A status tab in Curio's inspector pane lists all the figures with dates assigned grouped by due date.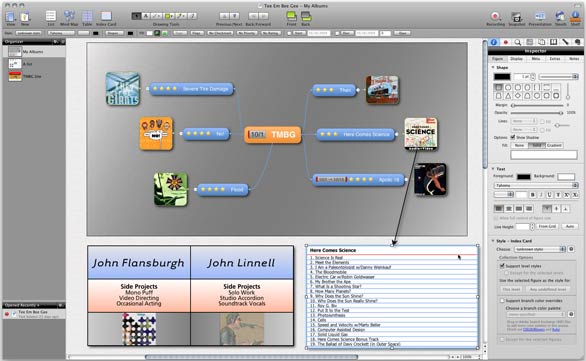 The project management sleeper feature is the project dossier. A dossier is simply a list of questions to answer about your project. When thoughtfully filled out, the dossier can be an excellent tool for defining a project and become an anchor that keeps it on track and in scope. Curio comes with about a dozen customizable dossier templates for projects including lesson plans, creative briefings, and science experiments.
For those who frequently reuse content, Curio offers no fewer than four ways to store them. Stencils in Curio are the contents of an idea space. Once dragged into the stencil list, the figures of that idea space become available to all your Curio documents.
Why not call them templates? Well, Curio has a separate tab for idea space templates, a scrapbook tab for storing frequently used text, image snippets, but has yet another tab to access online scrapbooks via the Evernote service.
Flexibility is fine, but four different storage spaces is cumbersome. All these repositories call for copious dragging and dropping. Unfortunately, items dropped into Curio sometimes went to an inactive idea space. Other times drag and drop stopped working completely until the application was relaunched.
Macworld's buying advice
Curio is an ambitious product with much to offer. For users who do moderate amounts of drawing, outlining, mind mapping, note taking, project management, or presenting, Curio can be an excellent value. Students in particular will find it appealing. Those with professional grade requirements will still have to shell out for dedicated applications.
[Stuart Gripman is a columnist for Advisor Basics of FileMaker Pro magazine and founder of Crooked Arm Consulting .]