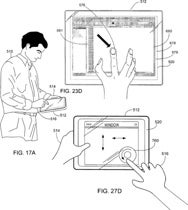 The Apple tablet may not be here yet, but is there anything it can't do?! Well, straighten out the App Store approval process, apparently. And who wants a tablet when iPhones are gonna sell for rock-bottom prices?! We do!
It's also a huge flashlight
The Macalope's a little concerned that if the mythical tablet device really isn't coming until 2010 we're going to be so sick of talking about it by then that we won't even cover the launch. But, then again, we talked about the iPhone for years before we saw one and those turned out to be pretty cool.
Tim Beyers at the Motley Fool is pro-Apple tablet, but the Macalope thinks he's thinking small in saying an Apple tablet could replace the Kindle, the LeapPad and PDAs in one fell swoop. Well, for the Macalope's money, there's no replacement for mashing with your new girlfriend in the cafeteria. Particularly when your old girlfriend walks in.
What? Oh, he means Personal Digital Assistant?
Really?
Does he know what year it is?
Yes, an Apple tablet could replace all those things and so much more. Heck, these are all things the iPhone can be a replacement for now (although Beyers is talking about Apple making more of a concerted effort in those areas). The Macalope doesn't see a lot of reward for Apple in the LeapPad replacement business, though. And PDAs? We call those phones now, Tim. The brown and furry one expects an Apple tablet will probably come with a focus on entertainment and reading.
Here's a prediction: the Macalope thinks Kindle book sales for the iPhone will outstrip sales for the Kindle itself by some time next year. It's simple math. Amazon's projected to have sold something like 1.5 million Kindles by the end of 2009. How many iPhones has Apple sold? 10 times that?
Maybe the Kindle is a better book reader, but if you've already got an iPhone, who's gonna shell out another $359? And why should Amazon care? Is Amazon a hardware company? It better not think it is.
The same thing about Google. The minute Google becomes more concerned with Android than with advertising (tip o' the antlers to Shawn King) and Amazon becomes more concerned with the Kindle than with book sales, they've forgotten who they are. And once you do that, you start lashing out at other people to blame for your failures.
Read more…
Please, there has to be a reason for this
Speaking of reading, the Macalope's sure you've all been keeping tabs on the Eucalyptus saga. Yes, yet another app got needlessly tangled in the App Store approval process, after being submitted, rejected for no good reason and, finally, approved.
Yay! The system works!
Er, not so much.
This incident makes Apple look so stupid it's forced the Macalope to concoct a wacky conspiracy theory that provides a logical reasoning for it. Want to hear it? Sure you do. Besides, that was a rhetorical question. You do know the Macalope can't hear you while he's writing these things, right?
Here it is: what if the reason Eucalyptus was rejected was not because you might learn a new sexual position from the Kama Sutra (if they still taught the classics in school these days you'd already know them all) and be better able to pleasure your lover, freeing you both to grow as individuals and wrest yourselves from the corporate overlords that are bent on keeping us repressed, thereby bringing about a utopian society? No, what if the real reason was because it came dangerously close to what Apple's bringing in the tablet device?
And, what if all Apple technology actually comes from aliens? Hmm?
We're through the looking glass here, people.
Okay, now the Macalope's not sure which is dumber: His idea or the idea that the company just can't sort out the App Store approval process.
I'll paint any iPhone for $99!
The $99 iPhone rumor was back this week, proving you can't keep a rumor of cheap Apple stuff down. Serial Apple misunderstander Scott Moritz says:
The potential price cut comes as Apple's iPhone enters its third year with the same design. In gadget land, hot designs start to lose their appeal in their third year.
That may be true with other devices, but who feels like their iPhone has started to lose its appeal? The beauty of the iPhone is that even if you bought yours on June 29, 2007, it feels like a vastly better device than what you bought. Of course, it may suddenly seem outdated when the new devices get announced, but the iPhone has held its value better than a mint-in-the-box Boba Fett in good-as-new condition.
So, what about this $99 rumor? The Macalope has never met an "iPhone nano" scenario he liked (what features, exactly would it shed to become smaller?), but the idea of selling today's iPhone as a low-end option (like the white MacBook) after the new ones come out makes a lot more sense to this mythical beast.
Hey, you hit a new price point, get a lot of low-end consumers in the door and who knows? This iPhone thing just might take off.