Electronic Arts' (EA's) highly-anticipated game The Sims 3 doesn't come out until June 2nd, but that shouldn't stop you from trying it out. All you need to do is walk into your local Apple Store to play a demo.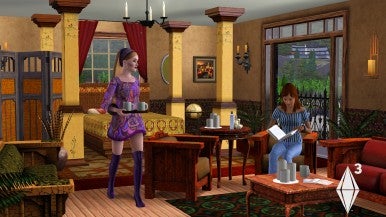 The Sims 3 is the latest version of EA's long-running franchise. Designed by Will Wright, the maker of Sim City and Spore, The Sims 3 lets you control virtual people called Sims. Sims have career aspirations, desire relationships, and want to live up their full potential, and they need your help to do it. You can design your own Sims, help them decorate their homes, and lead them down the path to happiness and fulfillment as you help them make friends, get jobs, and explore their world.
The new Sims 3 lets you customize everything from your Sims' dream home to clothing to furniture and even their car. You'll help them face short and long term challenges, like chances to get quick cash while they're working up the ladder of success. You can explore new locations, influence the behaviors of your Sims, change their body shape, facial features and other characteristics, and do more than you've ever been able to do in a Sims game.
The most exciting news for Mac gamers is that The Sims 3 is coming out simultaneously for the Mac and PC. In the past, Mac users have had to wait for months before they could get their hands on the game. But as with last year's release of Spore, EA has partnered with TransGaming to get The Sims 3 into Mac users' hands on the same day as their Windows-using counterparts.
The Sims 3 won't be released until June 2, but if you'd like to get your hands on the game ahead of time, you can visit your local Apple Store, where you can test the "Create A Sim" feature. You can also sample the "Create A Style" feature that lets you edit your Sim's attire and hair. And if you run into trouble, Apple Specialists will be on hand to help.