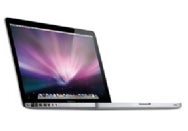 An SMC firmware update released by Apple on Thursday adjusts fan behavior of 15- and 17-inch MacBook Pro models when running under high workloads conditions. (The company didn't specificy which 15- and 17-inch MacBook Pros the update is intended for).
MacBook Pro SMC Firmware Update 1.3 is available for download from Apple. As with other firmware updates, running the downloaded installer places an updater application in the /Application/Utilities folder. Apple has a support page called About the SMC Firmware Updates with more information about the installation process.
Note: When you purchase something after clicking links in our articles, we may earn a small commission. Read our affiliate link policy for more details.