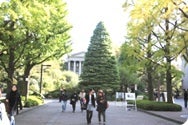 As a college student I frequently didn't go to class when I overslept, when I didn't feel like it, or heck, when it was Friday. I'm imagining that Japanese students are the same. That's why Aoyama Gakuin University's new plan to keep its students in line is pretty freakin' clever—possibly even bordering on devious.
Reuters, this June all of the university's 550 students, and some staff in one unnamed department, will receive a free iPhone 3G. Instead of teachers taking attendance, students are asked to input their ID number into an iPhone app—and to discourage fraud, this app apparently has GPS location data and monitors which Internet router students use.
Of course, knowing the lengths students will go to in order to avoid attending class, it wouldn't be too surprising to find they'd discovered a way around the system. If only they devoted that much time to their schoolwork.
Further the university apparently is going to also be providing video podcasts of lectures, something American universities have been doing for years. No word yet on if they're going to be making AGU's material available on iTunes U.