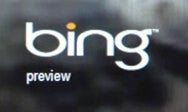 At the All Things D conference on Thursday, Microsoft unveiled the latest re-branding of its search engine. Forget Live Search—that's so three months ago. Now Bing is in! Launching in a couple of weeks, Bing hopes to make searching a little more useful and, judging from this video demo (warning: video contains Steve Ballmer), it looks a bit like the love-child of Google and WolframAlpha.
Microsoft is calling Bing a "decision engine," thanks to some features that aim to help you find the information you want sooner. When searching for an item, Bing will highlight the official Web site of that term (so if you were searching for "Mac," Apple.com would be highlighted at the top of the search results, with the rest displayed below). Bing goes a step beyond that by actually listing commonly-used information from the sites in the results themselves. For example, if you search for "Amazon customer service," Bing will return the Web site but also show you the phone number of customer service in the results (thus saving you a click).
Few people outside of Microsoft have used Bing, but Apple co-founder Steve Wozniak was impressed by the demo and that's got to count for something, right? It remains to be seen, however, if having more features is the way to topple Google from the top of the search engine pile. (Ask.com, for example, has lots of extra functionality in its search results but I, for one, hardly ever think about using Ask, much less actually use it.)
Note: When you purchase something after clicking links in our articles, we may earn a small commission. Read our affiliate link policy for more details.