The following article is excerpted from Digital Arts.
Boris FX has released its Boris Continuum Complete 6 FxPlug for Apple's Final Cut Studio. BCC 6 FxPlug includes more than 200 filters for Apple's Final Cut Pro, Motion, and Final Cut Express.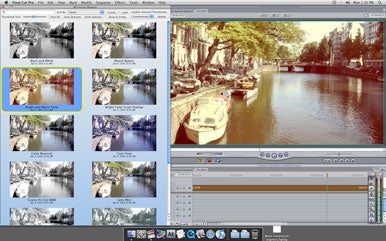 Besides the addition of new features included with the recently-released Boris Continuum Complete 6 AE for Adobe—such as Extruded Text, Splines, and Shapes—BCC 6 FxPlug takes advantage of Apple FxPlug's real-time architecture for simultaneous live previews of dozens of preset transitions, glows, and color and film look effects in a newly designed effects browser window.
BCC 6 FxPlug features over a dozen new FxPlug Shaders. Many of the FxPlug Shaders draw on BCC strengths such as lights, keying, and 3D. FxPlug Shaders are unique to Final Cut Pro, Final Cut Express, and Motion, tying directly to each host application's render pipe for greater efficiency and faster render speed.
There are 28 new filters ranging from realistic 3D vector graphics extrusions to organic 3D deformers to painting and image restoration. The new 3D Objects category includes Extruded Text, Extruded EPS, Extruded Spline, Type-On Text, and Layer Deformer. New image restoration filters include DV Fixer, Smooth Tone, and Pixel Fixer. New image painting filters consist of Charcoal Sketch, Pencil Sketch, Water Color, and Cartoon Look. New OpenGL filters include Lightning and Tile Mosaic. A new Swish Pan transition filter is also included.
The Extruded Text OpenGL-accelerated 3D text generator includes built-in 3D shatters and a warp deformer. Multiple 3D materials can be created from external image files featuring texture and bump maps as well as reflections. Each material can be individually saved as a preset and applied to the front, back, bevel, or extrusion surface of the text object. The text object can be further deformed and animated with a number of deformers such as Bend, Taper, Twist, Shatter, Ripple, Pulse, or Curl.
Extruded EPS provides a way to import and extrude Adobe Illustrator layered vector logos and graphics. Type-On Text offers 3D extruded text that can be animated in true 3D space in a type-on or type-off fashion. Extruded Spline is based on built-in primitives such as a medallion or heart and can create 3D extruded objects with bevels and spline-based extrusion profiles.
Other new effects include Layer Deformer, Pixel Fixer, DV Fixer, Smooth Tone, Swish Pan, Charcoal Sketch, Pencil Sketch, Water Color, Cartoon Look, Tile Mosaic, and Lightning.
Boris Continuum Complete 6 FxPlug costs $995 or $295 as an upgrade.