One of the most popular games series of all time gets its long awaited sequel. Arguably the most anticipated title released by Electronic Arts this year, The Sims 3 will come to a cyber neighborhood near you on June 2nd.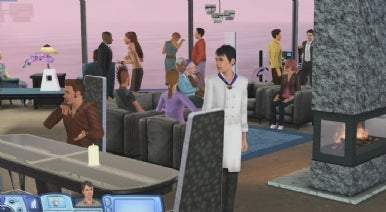 I sat down with Ben Bell, executive producer for the Sims 3, to get a hands-on look at the iconic people simulator. This latest edition of the Sims took over five years to develop and required contributions from developers both old and new. Fan input contributed greatly to this edition, Ben explained, to insure this was the most user-friendly Sims game to date.
The basic concept of the game is that you're fighting against life's pressures. Your character has certain life goals and wishes that are set by the user in regards to the personality traits that you select and life choices you guide the character through.
I was then introduced to Eddy, a pudgy, blond, mullet-wearing free loader. Eddy has certain personality traits that affect his skills sets, abilities, and behavior. He's a schmoozer and has an ability to get things from people. He also likes the outdoors, which is why Ben designed his house to be open to the air. Every Sim has his or her own lifetime goal to be defined by the player. In this case, Eddy is a gold digger. His lifetime goal is to want to inherit money off a woman. I watched as Eddy talked his "sugar momma" into giving him a bit of spending money.
Personalities dictate how Sims interact and what their general behavior is like. Eddy demonstrates his unique personality by licking a dirty plate clean of crumbs. Due to his lazy and freeloading nature, Eddy has a behavioral option that someone with perhaps more refined manners would not.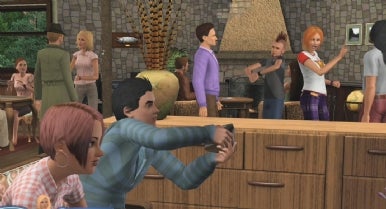 Ben Belle is especially proud of the innovations the Sims team has made with the Sims' personalities. You play as one character at a time and the character will make autonomous decisions when not being used based on their personality traits. Responding to user feedback, this edition of the Sims focused less on micromanaging the simple everyday tasks that center on bodily functions; instead, you'll be guiding the character in their quest for happiness, self-fulfillment, and responding to life's pressures.
When setting up your character, you'll be able to select up to five personality traits for your character. Some are mutually exclusive, but others can create a very strange character indeed. Ever wonder what an outgoing clumsy jerk might live like? Well now you can. One of my favorite personality traits available is "never nude," a reference to the cancelled sitcom Arrested Development.
While you'll only be controlling one character at a time, around you the entire town will be making choices. The developers are especially proud of the seamless world they've created. With a couple clicks, we were able to see the full scope of the town and zoom anywhere on the map. It's easy to click on other characters and see what they are up to. It's also easy to move throughout town with your character. Again improving upon the previous two editions of the Sims, you can now fully explore the town and it's always available rather than needing to be specifically loaded. You'll be able to build and explore buildings all over town as well.
As you play, your character will unlock lifetime rewards that will net you things useful to your character's growth. You can unlock a "mid-life crisis" (which resets your character), a steel bladder (which reduces the number of times they have to go to the bathroom), a body sculptor (which can reshape the character's body), and more.
Ben purchased the body sculptor for Eddy and reshaped Eddy's heavy-set frame into something skinnier in seconds. Fans of the series will appreciate that there are more diverse body types in the Sims 3, and the mount of customization that is available to players is impressive while the controls are easy to understand and fun to play with.
A hallmark of Maxis, the customization also extends to other aspects of the world as well. For the Sims 3, the developers overhauled the player's ability to modify content. You can spend hours customizing the perfect pattern for your house and save it for use on your car or on your character's T-shirt. We quickly applied the cow pattern that decorated Eddy's bedspread to his house, car, and t-shirt. At Sims 3.com, all surfaces and objects can be loaded to the site and shared with fellow users. Characters can be shared as well.
If you've ever been on Youtube, you'll know that the Sims already has a large video sharing community. People post everything from funny Sims deaths to full scale re-enactments of the Titanic. The Sims 3 makes uploading and editing videos of your Sims even easier. Just click "V" for video and you'll record a segment of your character's life. You can upload the video to Facebook, Youtube, and other social networking sites within seconds.
As part of the vibrant Sims community, the Sims 3 Web site is home to each player's unique personal page. Like a Facebook page, this will show the progress their character has made, the accomplishments they've unlocked, the town they live, etc. There's also a section on the site called "The Exchange," which Ben Bell explains is a way for players to share content with each other—-buildings, t-shirt designs, and characters.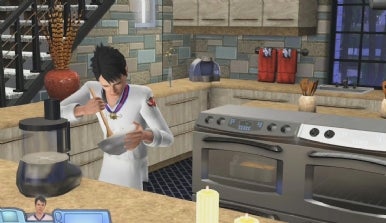 For players who crave more details and more customization, there's a Sims 3 store that launches with the game on June 2nd. By purchasing the game, you'll receive 1000 points of game currency, which is equivalent to about ten US dollars. Through the store, you'll be able to purchase more advanced building styles, clothes, or objects that you can't find anywhere else.
Finally, I asked Mr. Bell about the sadist elements of the game. Killing your Sims, while not officially part of the game, is a well-documented and quirky habit of some of the game's more sadistic (or bored) players. For example, in the past players have placed their Sims in pools and deleted the ladder—-causing them to drown. Bell is confident players will find ways to kill Sims, but the developers didn't specifically engineer any new ways.
As of press time, over 100 million copies of The Sims games have been purchased. The Sims 3 not only hopes to continue the impressive legacy of the series but push the game in new and fun directions. While the expansive scale and retooled interfaces will certainly lead to The Sims 3 looking distinct from its predecessors, the fundamental gameplay will remain intact. Players can look forward to ensuring that their character's many plates are kept spinning, that is to say, their many needs are being met. Failing that, you can always try to find ways to have them hilariously kill themselves.
If you're interested in checking out The Sims 3 before its official release on Tuesday, June 2nd, you should be able to play a demo with some of the game's key features at an Apple retail store near you.