We hate to be the ones to do this, but you really can stop holding a designer's ruler up to your display or print screenshots to measure on-screen elements. Iconfactory's xScope is an essential toolbox of screen-measurement and color-inspection utilities for developers, and version 2.2 brings some useful new perks and fixes.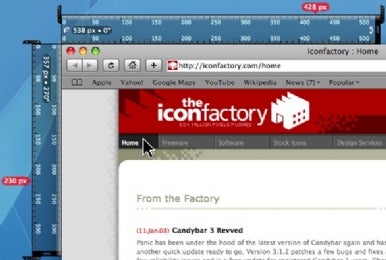 New in xScore 2.2 is a keyboard shortcut for copying the color under the Loupe tool to the clipboard, and the ability to add screen captures to the clipboard for pasting into other apps. The Dimensions tool can now display aspect ratios, and a new system-wide shortcut can create guides from Dimensions measurements.
Other improvements include more color customization of UI elements, support for F17-F19 keys on newer Apple Keyboards, and new Screens dimension templates for Firefox 3 and IE 8.
xScope 2.2 is a free upgrade for registered users and a free demo that runs on Mac OS X 10.4 Tiger and 10.5 Leopard is available. A license costs $27. To get a better idea of xScope's tools and utility, check out Iconfactory's xScope product page for more screenshots and demo videos.