Postage, a $5 app from RogueSheep, is an awesome app for creating customized, adorable electronic postcards to e-mail to your friends and family. This is a perfect iPhone app: It looks and feels great, as native on the iPhone as one of Apple's own apps, and the postcards it creates look fantastic.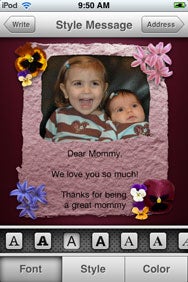 You start the postcard-creation process in Postage by choosing a theme. There are 10 categories to choose from, ranging from traditional (travel, love, parents) to silly (cutouts, speech bubbles). Most categories have five or six options within them, and I wish that Postage would remember which postcard I was on within each one as I switched through them. All of the postcards look great. Most themes allow for a custom photo, with placeholders that will look familiar to anyone who's used the templates in Apple's desktop Mail app or iWeb and iDVD themes. iPod touch users can pick a photo from their synced albums; iPhone users have the extra option of taking a photo from within Postage as well.
Once you've selected your photo, Postage presents you with a close-up of the photo portion of your postcard. You can move and resize the photo for optimal placement, as you'd expect. Even better, though, Postage actually lets you rotate the photo as well, using finger movements so intuitive that you won't even have to think about them. You can apply Photo Booth-style effects to your photos as well, like sepia, soften, or glow.
After you're happy with your photo layout, you advance to the next screen to compose your message (if that's available in your chosen theme). One niggle here: Postage saves your last message, and needs to offer a button to clear that message out, instead of forcing me to delete it character by character. I don't need love notes to my wife leftover when I'm writing a quick poker night invitation to my buddies.
The next step is to stylize your text. Though the task is fairly mundane, the interface for this step of the process is exquisite. Tabs let you switch between adjusting the font, style, and color, and a thin horizontal scroller lets you specify your choices. Font selection on the iPhone is limited, but Postage does the best it can.
When it's time to send your postcard, Postage integrates with your Address Book to auto-complete your friends' e-mail addresses. You can send the same postcard to multiple recipients at once, tweak the subject line, and even adjust the address you're sending from. The app smartly avoids making you exit out to send your postcard via the iPhone's Mail app; instead, your message sends from within Postage, presumably using mail servers hosted by Rogue Sheep. (You may want to avoid using Postage to e-mail tastefully decorated state secrets, if you're concerned about your message being relayed through a third party.) A clever option lets you save your finished postcard to your iPhone's photo library, for when your final creation is a true masterpiece.
Postage is a joy to use, and truly feels like something the best team at Apple might release themselves. It doesn't merely work—it works beautifully.
Postage is compatible with any iPhone or iPod touch running the iPhone 2.2 software update.
[Lex Friedman blogs.]
Updated at 9:55 a.m. PT to correct the price for Postage, which costs $5.