At a Glance
Expert's Rating
Pros
Roomy, comfortable QWERTY keyboard
Stunning AMOLED display
Cons
Touch display can be slow
Android OS 1.5 has quirks
Our Verdict
For the hardware alone, Samsung's Moment impresses. With a beefy processor, a full QWERTY keyboard, and a vivid AMOLED display, the company's first Android-powered phone in the United States is a strong contender among the rapidly increasing number of Android devices. when it comes to software, however, the Moment falls a bit short. Unlike Motorola's Cliq ( ) or the HTC's Hero ( ), it has no customized overlay to spruce up its somewhat drab user interface. And the touchscreen feels a bit sluggish at times.
Just on looks, the Moment doesn't stand out from the crowd, either. The minimalist handset, with a silver and black color scheme, is a bit on the larger side, measuring 4.6 by 2.3 by 0.6 inches thick. It weighs a hefty 5.7 ounces, which is heavier than most current smartphones, but it is about the same size and weight as the Motorola Cliq, another Android phone with the slide-out keyboard/touchscreen combination.
The Moment's 3.2-inch, 320-by-480-pixel AMOLED display is definitely the handset's best feature: Colors looked bright and accurate, animations were smooth, and details were crisp. It also has a very wide viewing angle so you can view video with the phone on a flat surface with no distortion or color change. I was disappointed, however, in the sluggishness I experienced with the capacitive display. You have to press down firmly to flip between your homescreens or to scroll through your media collection. Those used to the iPhone or the Palm Pre might have some trouble getting used to it. And unfortunately, unlike the HTC Android phones, it has no option to calibrate the screen sensitivity.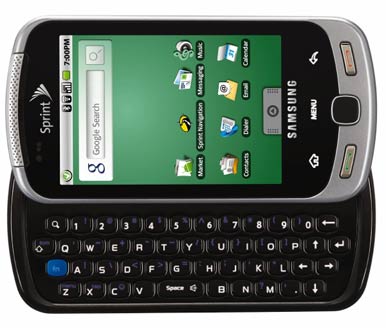 The Moment has two hardware buttons (Talk, End) and three touch keys (Home, Back, and Menu) below the screen. It noticeably does not have a dedicated Google Search button, found on other Android handsets, such as the T-Mobile myTouch 3G ( ). It has a Google Search widget you can place on one of your three homescreens, but it is nice to have the convenient hardware button as well.
An optical mouse sits in the center of your navigational controls and it handles quite well. I found it quite responsive and easy to use. I'm not sure how much I'd use the mouse over the touchscreen for navigation, but it is a nice alternative to have.
It is also useful to have a physical QWERTY keyboard; the native Android on-screen touch keyboard is far from perfect. The Moment's keyboard is spacious with brightly backlit keys. The spacebar is big enough and centrally-located, which I appreciate. There are four arrow keys, a dedicated back key, a dedicated Google search key, and a Function key for symbols and emoticons (which is blue so it stands out from the rest of the black keys). Though I found the Moment's keyboard easy enough to use, I prefer the Motorola Cliq's keyboard; the Cliq's keys are slightly more raised.
Call quality over Sprint's 3G network was very good. Voices sounded clear and natural, with ample volume. Callers on the other end of the line heard me loud and clear except when I was standing in line at a busy lunch spot; one reported that she could barely hear me over the background noise. The Moment has a vendor-rated battery life of 5.5 hours of talk time.
The Moment has the standard Android user interface; no fancy overlay or branded tweaks like you'll find on the Motorola Cliq or the HTC Hero (also on Sprint). I was a bit disappointed that it doesn't run a version of Samsung's touch-friendly TouchWiz overlay for Android. We'll see it on future Samsung Android models though, such as the Samsung Behold 2. At CTIA, Samsung told me that they have no plans to bring TouchWiz to the Moment.
Like other Android phones, the Moment offers a bevy of e-mail and messaging features. You can sync your Gmail account with the phone as well as POP3 Web-based mail accounts like Yahoo and Hotmail. You can also get push e-mail from Outlook via the Microsoft ActiveSync feature. You can sync your Outlook calendar, tasks, and contacts as well.
The browser performed well, and pages looked great on the Moment's AMOLED display. Other than a bit of delay while scrolling, navigating and zooming into text was quite smooth. You can copy and paste text, bookmark links, and view your browser history. Unfortunately, unlike the HTC Hero, there's no integrated support for Flash Lite, so Flash-heavy sites won't load correctly.
Videos downloaded to the Moment looked great on the AMOLED display with smooth playback, thanks to the device's 800-MHz processor. YouTube videos were a bit blurry (as they typically are), but playback was generally quite smooth. Videos played via SprintTV looked better than the YouTube videos, but stuttered a bit. One Android annoyance: It lacks a dedicated video player, so you must access and play downloaded videos from within the Gallery, which is where your photos are stored.
The accelerometer, while snappy, has a weird quirk: You can only turn the phone to the left to watch video or view Web pages. It makes sense since the keyboard is on the left side, but those of us who are used to the iPhone or Palm Pre might be thrown off a bit.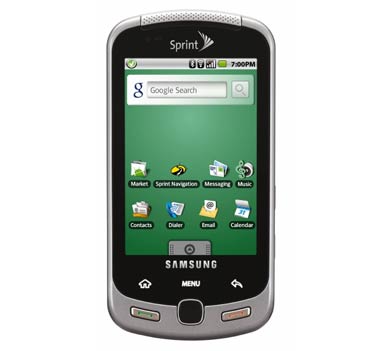 The Android's music player is basic, like other Android phones, supporting album art, playlists, shuffle, and repeat. And of course, there's an app for the Amazon MP3 store where you can purchase DRM-free songs. The phone doesn't include media transfer software, so you'll have to drag-and-drop files from your computer to the Moment via the included USB cable.
I took a few snapshots with the Moment's 3.2-megapixel camera and was impressed with the quality both indoors and outdoors. The autofocus worked quite well, and my pictures looked great on the AMOLED display. Some indoor shots had a hint of graininess, but this didn't detract from the overall look of the image. The camera app doesn't have any advanced settings or editing effects, but you can set video quality before you start recording. You also get a flash and a self-portrait mirror, plus a shortcut in the Gallery app for uploading to Facebook, YouTube, Photobucket, and MySpace.
The Moment isn't the most exciting Android handset, but its sturdy hardware, comfortable keyboard, and gorgeous display make it a solid choice in the growing family of Android devices. Also, for heavy messagers, it is a solid Android alternative good to the keyboard-less HTC Hero, also offered by Sprint at the same price as the Moment.
[Ginny Mies is an assistant editor for PC World.]