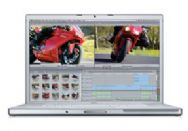 Apple recently extended the repair program for its notebook computers featuring certain faulty graphics processors from Nvidia.
Originally acknowledged by Apple last October, the flaw causes distorted or scrambled video or a total failure to display an image on either the MacBook Pro's display or an external display. At the time, Apple said it would repair computers within two years of the original date of purchase, regardless of the MacBook's warranty status—that period has now been extended to three years from date of purchase.
Potentially affected machines now include those with Nvidia GeForce 8600M GT processors, including 15-inch and 17-inch MacBook Pros manufactured between May 2007 and September 2008. Among those models are the 2.4GHz 17-inch MacBook Pro, the 2.4GHz and 2.2Ghz 15-inch MacBook Pros, and the MacBook Pro (Early 2008).
So, should your MacBook Pro exhibit any of the aforementioned video irregularities, you've got plenty of time to get it repaired gratis.
[via The Apple Blog]