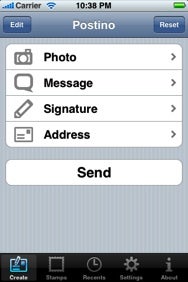 In all likelihood you, like me, have run into the challenges of physical mail in a digital world. You're on a holiday, and you want to send your mother/significant other/cat a postcard, but chances are it won't even arrive until after you get back. Sure, you could just send an e-mail, but it loses a little something, doesn't it? Plus, it could stand to be a little more personalized.
AnguriaLab's new app, Postino (iTunes link), aims to bridge the digital and physical divide. It allows you to snap a picture and send it as a postcard, either over e-mail or as a real piece of paper. Just take a photo, choose a frame, add a custom message if you like (even "sign" it by drawing with your finger), and send it off. If you want to send it via snail mail, you purchase a virtual stamp right from the application ($2 for a single one, but they get cheaper if you buy a package of several) and your card gets printed out on high-quality paper and sent anywhere, worldwide, without any further action from you.
Postino also lets you track your cards, both virtual and physical; include your GPS location in your message; and zoom and crop the picture to your own specifications. Postino is a free download from the App Store and requires iPhone OS 2.2 or later.