At a Glance
Expert's Rating
Pros
Robust BitTorrent support, Time Machine and remote access support
Easy installation
Flexible iTunes server features
Intuitive software interface
Our Verdict
Home media servers like Iomega's Home Media Network Hard Drive are network-attached storage (NAS) devices that provide a centralized location on a network to store your videos, audios, and photos. You can access files on the home media server through any computer (Mac or PC) on the network. You can even control what each user on the network can access.
The Iomega's compact grey curved block shape is about the size of a typical desktop hard drive and comes equipped with a USB 2.0 port to augment its storage capacity. It connects to your network router via Ethernet.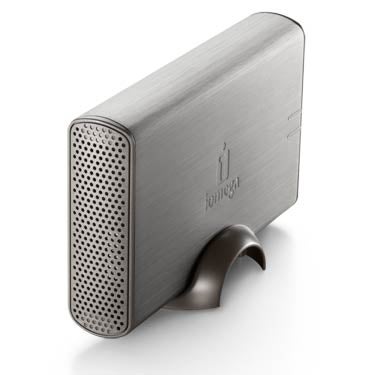 The server's software interface is very intuitive and it has a useful set of controls, but initially, we had difficulty detecting the drive on our network. A recent downloadable software fix enabled us to correct this issue. You use Iomega's desktop-based application to detect the drive, while the Web-based application configures the drive. If you just want to access the files on the server, the Iomega appears as a network device, so you don't need to use any of its software initially. The Home Storage software interface allows you to manage the folders on the drive by populating the server with more folders and configuring them as you'd like. The administrator can set who can access the folders with simple clicks of a button, and it's also easy to set a folder for use with iTunes or DLNA media. The Home Storage Web interface enables the user to easily reset the settings on the drive, check for updates, reset the media servers on the drive, and schedule tasks for the drive.
Though the Iomega server can be used as a storage unit for your entire network, it does not share the connectivity speeds of its non-networked cousins, the desktop hard drive. In our experience, home media servers produce slower transfer speeds than your average desktop drive. This shouldn't be a deterrent; desktop drives use different connections and are used for different purposes. For perspective, it took about 58 seconds for the Iomega to complete our test of copying 100 photos, but over 2 minutes to transfer a 1GB photo. Like the Western Digital My Book World Edition, it took the Iomega about 3 minutes, 15 seconds to copy a 1.43GB QuickTime video onto its hard drive.
One important feature of the Iomega is the ability to configure your iTunes library for sharing with the other computers on your network. The Iomega is fairly straightforward and gives lots of control over your iTunes sharing: by just clicking on a button, the administrator can set who can access the folders, and it's easy to authorize a folder for use with iTunes or DLNA media. Only folders you deem worthy of sharing will appear in iTunes, which makes sense if you have explicit music you don't want to share with the rest of your family.(If you still have copy-protected iTunes music, iTunes allows only the purchaser of that song to play it.)
The Iomega has remote access abilities that allow users to access the server over the Internet. This is a recent upgrade to the Iomega, thanks to a firmware update. The Iomega uses TZO DNS services, providing users the first year of remote access for free, then it's $25 $10 a year thereafter [Note: The annual fee was recently reduced], and custom domain names are available for additional fees. Remote access is a great feature for users who want to load or access photos from their hard drive during their vacation far away from home.
Users who download a lot of BitTorrent files or who seed (distribute files by allowing BitTorrent clients to download files from your computer) will especially appreciate Iomega's server, which fully supports peer-to-peer file-sharing technology, making it easier to download large media files. You can direct file transfer to the Iomega and allow it to do the work instead of your computer.
The Iomega fully supports Time Machine backups. By setting the drive as your Time Machine backup destination, you're good to go. Additionally, the Iomega comes prepackaged with two different backup software products. One is a trial version of MozyHome, an online backup service. You could theoretically use MozyHome to back up the Iomega server, your computer, or both. The trial version only has 2GB of free space, so the intention is to have the user subscribe to the paid service ($5 per month), which offers unlimited backup. The other backup product is EMC Retrospect Express HD, a desktop-based backup service that backs up your Mac's data to the Iomega.
Specifications
| | |
| --- | --- |
| Network connectivity | Gigabit Ethernet |
| Expansion ports | 1 USB 2.0 |
| DLNA support | Yes |
| iTunes server support | Yes |
| BitTorrent support | Yes |
| Remote access support | Yes |
| Print server support | Yes |
| Time Machine support | Yes |
| Bundled Mac backup software | EMC Retrospect Express HD, MozyHome |
| Dimensions (WxDxH in inches) | 4.9 x 7.8 x 1.6 |
Macworld's buying advice
Iomega's Home Media Network Hard Drive has a simple setup process, advanced features, and an easy-to-use interface. Of the home media servers currently on the market that are Mac friendly, the Iomega stands out among its peers.
[Chris Holt is an assistant editor for Macworld. Photo by Peter Belanger.]
[Editor's note: Updated 8/14/09 at 3:45PM PST to reflect a price reduction for TZO remote access.]