At a Glance
Expert's Rating
Pros
Easy installation relative to other servers in this review
MioNet backup software is easy to use
No-nonsense iTunes server
Cons
Not Time Machine compatible
Lacks more advanced features that other media servers have
No bit torrent features
Our Verdict
You and your family have a lot of media files; digital photo albums, thousands of MP3s, and hundreds of video clips are stored on your many hard drives. What if there was a way you could store them all in one place and share them with everyone in the family? That's just what a home media server such as Western Digital's My Book World Edition intends to do. Ideally suited for home networks, the My Book World is a simple, intuitive, and great introductory model for home users.
The My Book World Edition's marketing materials stress its simplicity and its instruction menu reflects an "easy-to-use" approach. The instructions simply tell you how to hook up the My Book World Edition to your network router via Ethernet and your router to your computer.
During the setup, I was eventually able to detect the My Book on our lab's network, but it did not initially mount on my Mac's desktop. I was able to access the My Book through Bonjour, and the My Book's folders then appeared as network devices on our Mac. Just like other home media servers we've reviewed, by altering your Finder preferences, the folders can then appear on your desktop.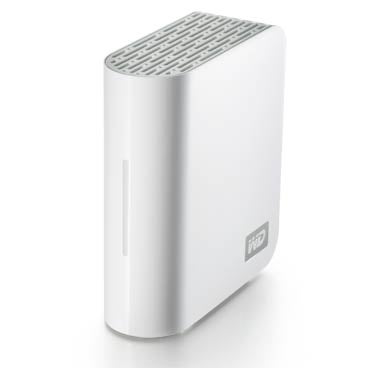 The My Book has the most streamlined interface of the media servers we've reviewed. While others have interactive desktop-based programs, the My Book doesn't come with desktop-based software. Instead, you configure the server through a Web browser. The server appears as a network device, and you can access the video, music, and pictures folders as you would those on a typical network server in OS X. Anything dropped in the music folder automatically appears as shareable in iTunes, and anything dropped in any of the folders is DLNA ready.
If the 1TB of storage space isn't enough, you can use the USB port on the back to attach an external drive to augment the capacity of the server. It can also be used to directly connect to your computer if you'd prefer to treat the My Book World simply as an external hard drive.
At the time of this review, the device was not Time Machine ready, but Western Digital has updated the device with TIme Machine compatibility. The My Book comes prepackaged with its own version of backup software, the Western Digital Anywhere Backup software. Anywhere Backup allows you to back up your computer to the device quickly and easily. Unlike Time Machine, which backs up new information at scheduled intervals, the Anywhere Backup software instantly backs up any new files you add to your computer.
To remotely access the My Book, Western Digital includes MioNet, a completely free, simple Web-based service. After you've installed the My Book, you can set up a MioNet remote access account using an installer on the Western Digital software CD. Create a user name and password, and you can access the Western Digital anywhere over the Internet. The MioNet service only takes a couple minutes to set up, so Mac users who need remote access in their home media server will find the Western Digital an attractive option.
Currently, the My Book World does not support BitTorrent protocols. While some media servers do the work of the computer for you and take the heavy lifting out of downloading and storing bit torrent files, the My Book does not support this technology.
To test for speed, I ran the My Book through some basic situations you're likely to encounter. For example, it took only about 7 seconds to copy an album (15 songs) of music over our wireless network to the My Book. Placing music in the My Book's "Shared Music" folder will automatically add it to your shared folder in iTunes, making the My Book convenient for sharing over iTunes.
The more interesting tests were the ones where my 2.4GHz MacBook Pro had to transfer photos and videos over the wireless network to the My Book. While it took only 53 seconds to transfer 100 photos to the My Book, it took over 2 minutes to transfer a 1GB photo file. Not surprisingly, the video transfer rates were slow as well. It took nearly 3 minutes to transfer a two-minute, 1.43 GB QuickTime clip to the My Book. I found that transferring data to the My Book through Ethernet or wireless takes about the same amount of time. Though its slower to transfer files over a network connection than to transfer files using USB, FireWire, and eSATA connectivity, the ability to share media over the network makes the home media server much more versatile than a mere external drive.
Specifications
| | |
| --- | --- |
| Network connectivity | Gigabit Ethernet |
| Expansion ports | 1 USB 2.0 |
| DLNA support | Yes |
| iTunes server support | Yes |
| BitTorrent support | No |
| Remote access support | Yes |
| Print server support | No |
| Time Machine support | No |
| Bundled Mac backup software | Anywhere Backup |
| Dimensions (WxDxH in inches) | 2.3 x 5.8 x 6.8 |
Macworld's buying advice
The first generation of home media servers has only recently hit the market, so it is difficult to gauge who is truly ahead of the field. Still, users will enjoy the simplicity of the My Book; its intuitive interface and stripped down menus make it a cinch to pick up and use. It doesn't offer the control of other units by not providing a desktop application, and its features are only pedestrian compared to others; BitTorrent and printer server support are sadly lacking. But if you're simply looking to backup files or share media over a network, then the My Book is an affordable and simple unit.
[Chris Holt is an assistant editor for Macworld. Photo by Peter Belanger.]