Sure, you could use the Dock and the Applications folder to launch applications. But there are plenty of ways to tweak OS X to make that everyday chore easier, from launchers like LaunchBar to customized hot-key shortcuts.
Launch only applications
While some folks use application launchers like Butler and Quicksilver to manage files and apps (as described in the "Managing files" section), I like to use my favorite launcher—Objective Development's LaunchBar ( )—only to launch apps and AppleScripts and to perform calculations; I like Spotlight just fine for finding files. So I configured LaunchBar to show me only what I want: I pressed Command-Y to open the Configuration dialog box and then deselcted everything except Applications, Preference Panes, and a customized list that contains the Java application I use to play Go (it doesn't display as a regular application) and a handful of AppleScripts. I can then press Command-Spacebar, type a couple of characters, and launch just the applications I want, without wading through a lot of documents and other stuff I don't.—Kirk McElhearn
Apps in the Finder toolbar
I put Preview and TextWrangler in the Finder toolbar. That way, I can drag just about any kind of file up there to open it. This is particularly handy when double-clicking a file doesn't open it in the correct program. Also, it gives me some flexibility: Say that I've told the system to open .jpg files with Photoshop when I double-click on them. But what if just want to see what's in the file, without waiting for Photoshop to open? I can drag the image file up to the toolbar and drop it on the Preview icon to preview it.—Matthew Cunningham
More apps in the Finder toolbar
I use the Finder toolbar to hold icons for utility programs that I use all the time: Fetch, my VPN client, Automator, Activity Monitor, Keychain Access, and others. I put them there because I was opening them a lot when working with files (to FTP them, for example) or when taking care of basic housekeeping chores. Moreover, when I need to perform system maintenance—such as sorting out an erroneous password in Keychain—it's helpful to turn to the Finder, because I think of the Finder as my system's main interface; I associate it with tasks that don't require dedicated applications (Web browsing, productivity, and so on). I could put the shortcuts to these utilities in the Dock, but I prefer to reserve that for applications and documents.—Mark Elliot
Better services
I've seldom found a use for OS X's Services menu, because I can accomplish most of the things it lets me do more easily in other ways. But there's one exception: DevonTechnologies' free WordService. You install WordService by dragging a file to yourusername/Library/Services, but that one file adds 34 commands to your Services menu, and they enable you to manipulate text in many useful ways with a single click. My most frequently used of these commands is Format -> Reformat (Command-Shift-7), which removes the line breaks from a selection, turning multiple lines into a paragraph—useful when pasting text from e-mail messages, PDFs, or Web pages. Other commands change the capitalization of selected text, sort lines, and turn quotation marks curly or straight (as you wish), for example.—Joe Kissell
A better clipboard
OS X's built-in Clipboard is fine, but I prefer PTH Consulting's $25 PTHPasteboard Pro. Like other OS X Clipboard managers, PTHPasteboard Pro saves a history of everything I copy or cut onto the Clipboard, so I can go back and paste something again without having to find its source. In fact, I can even search my Clipboard history for something I copied days or weeks ago (a serial number, say, or a paragraph from a document I was writing). In addition, PTHPasteboard Pro can alter the text on a clipboard, removing styles, removing certain characters, even performing complex pattern-matching transformations while pasting. If you copy a URL, for example, it can use a service such as TinyURL.com to paste a shorter version with just an extra click.—Joe Kissell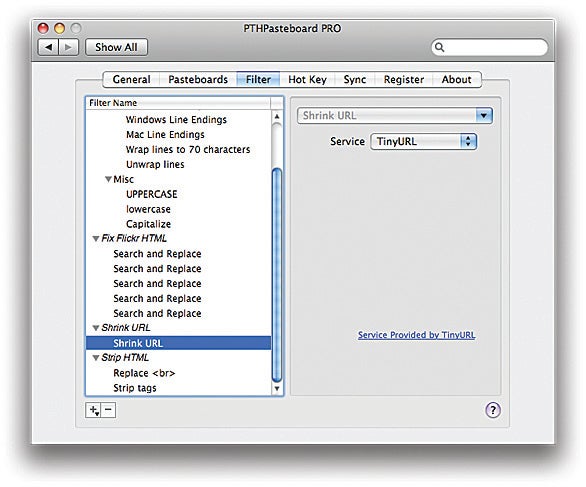 Type less
You probably know you can use TextExpander ( ) to insert blocks of frequently used text by typing far shorter "snippets"; when I type addy, for example, TextExpander inserts my full mailing address. But I also use TextExpander to run shell commands and AppleScripts whenever I type a few characters of text. For example, I've got a shell script that uses PlainClip ( ) to convert the contents of my Clipboard to plain text and then to paste that text into the current document or program. I set up TextExpander to run that script whenever I type ptp (for "plain text paste").—Dan Frakes
Replicating Launcher
I still miss OS 9's Launcher. I tried using the Dock, but I really hate the way it combines launching and switching apps. I tried DragThing, but I found it annoying. So instead I created a folder called Launcher, in which I then nested subfolders such as Apps, Internet, and Utilities. Then I put aliases of my applications in those folders. Finally, I put a copy of this Launcher folder in the Dock, right-clicked on it, and set it to List view. Now I get a nested pop-up menu that gives me access to all my programs, and I can use the Dock purely as an application switcher.—Matthew Cunningham
Configure hot keys with HotApp
While OS X has some support for universal keyboard shortcuts, I use HotApp instead. With its preference pane, I can assign keyboard shortcuts to launch applications; open folders, files, or preference panes; paste text; mount disks; trigger AppleScripts; open URLs; trigger system events (such as starting my screen saver or hiding all apps but the Finder); and way more.—Sean Simpson
Note: When you purchase something after clicking links in our articles, we may earn a small commission. Read our affiliate link policy for more details.